Just Shutters launch new shutter website
The Just Shutters team are excited to announce the launch of our brand new shutter website.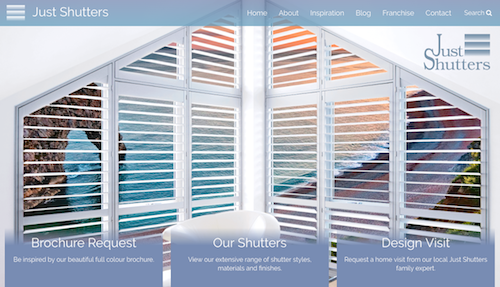 Changing in both design and structure, the site has been a leap forward. Using the latest technology and design and development techniques, it combines all the great content and useful information our customers have known and loved, with the smoothest, modern touches which are sure to engage and inspire.
New technology and design
Opening with a striking (and we believe never-been-done-before) animation, we show off the views of city, coast and country. This visual gives viewers the sense of how our beautiful shutters can enhance a window and add privacy without blocking a view.
You will still find all the useful articles and information on our site, with news and blogs aplenty. However a slicker, easier to navigate experience awaits.
The site is a result of a wonderful partnership between the Just Shutters team, lead by Marketing Manager Charlotte Fantelli, Founder Chris Rocker, and MD Simon Osterloh, and the exceptionally talented South Coast Web.
A passion project
Charlotte Fantelli Says; 'Moving away from a site that has been a huge success, is loved by customers and ranks very highly in Google, was always going to be a slightly daunting prospect. We knew however that we needed to modernise and update both the appearance and driving technology of our beloved site. It has been a long process but the first step was to find the right web team. After a lot of interviews and scrutinising of the marketplace, we found South Coast Web and we couldn't be happier with the partnership.'
'The last ten days have been extremely full-on, our site has over 300 pages, each ranking highly. It was of huge importance to work with a team that understand three distinct elements: designing the best user experience for our customers, developing the latest technology and SEO/Marketing to ensure we can be found and easily contacted. South Coast Web have ticked the boxes and worked with great enthusiasm and passion throughout! A big thank you to the guys!'
Rob Brown Director of South Coast Web says 'This is a very proud moment in the South Coast Web journey. We are always grateful to receive positive feedback. Thank you Charlotte and team for all of your hard work. The new site is a true gem in our portfolio.'
Give us your feedback on our new shutter website
We would love to hear your thoughts on our new site, you can give your feedback on our Facebook page.
We would be delighted if you like our new site if you would kindly share this with your friends and family. As always you can contact us on 0845 894 0700 or follow the links below to find out more about our stunning shutters!