What are Plantation Shutters and what can they do for your property?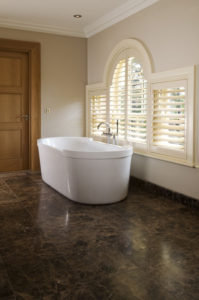 Plantation shutters are commonly referred to as 'wooden shutters', 'shutter blinds', 'window shutters', or quite simply 'Shutters'. They combine beauty and practicality and are fast becoming the window (and door) covering of choice for the most discerning home owners.
Offering so much more than other traditional window dressing, such as curtains and blinds, shutters have many added benefits, including:
Practicality, shutters are extremely practical, maintenance free, hard wearing, easy to wipe clean, gather very little dust, and come with a lifetime guarantee
Privacy, offering both light and privacy, out-dated net curtains are no match for our shutters in this department!
Beautiful and stylish – just look at the pictures
Security , adding an additional secure layer to the inside of your window or door
Shutters are great for those with allergies, as they don't attract the dust, dirt and moulds or mildews curtains and blinds can
Value – shutters are viewed as a luxury product as they offer such incredible benefits and are stylish and a design feature, but plantation shutters cost less than you may think, as they last and are maintenance free they provide long lasting value.
Just Shutters offer the largest range of shutters in the UK, we are experts in the field as we specialise in shutters and nothing else, we are passionate about our products and our quality of service.
We are a family run business with franchises across the UK, so whether you are in Kent, Essex, Dorset, Hampshire, Cornwall, Hertfordshire, South Manchester, Cheshire, Birmingham or anywhere else in England (please see our area of operation), give us a call and we will show you just what a difference our beautiful shutters can make to your home.