Just Shutters hits the road for various exhibitions across the South
It is that time of year again, the time when the sun peeps out (albeit occasionally) to remind us that summer is on the way! Along with the springtime sunshine comes the opportunity to spread the Just Shutters name and meet potential customers face to face at the various exhibitions and county shows.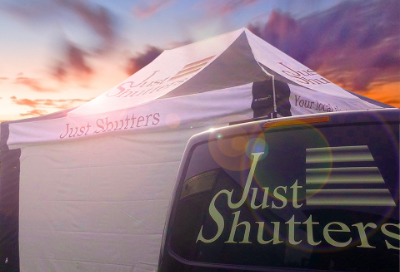 This weekend sees Just Shutters exhibit both in Devon and Hertfordshire. This will be Gene Astell's (pictured to the right) first Hertfordshire County show – a large county show that sees over 10,000 visitors. While further South, Andrew Cook is returning for the fourth year to the Devon County Show. This is where each year he has seen a fantastic response to his presence.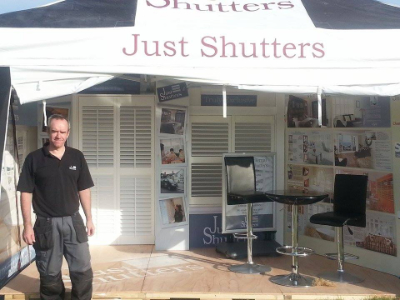 Each of our franchisees benefit from the use of the Just Shutters perfectly tailored exhibition trailers. As well as our beautifully branded stands. And of course the many years experience that Just Shutters have had at many dozens of exhibitions across the country.
Chris Rocker, Just Shutters Founder says: ' County shows are a perfect opportunity to take shutters to our potential customers. Many people don't know the difference in quality until they see our shutters for themselves. It is about educating the public and giving them something to see and feel. Couple this with our expert advice and local people can trust we are the experts.'
For more about becoming a franchisee please see our shutter franchise site or call us on 01202 233744.