HITCHIN PLANTATION SHUTTERS FROM JUST SHUTTERS
The market town of Hitchin is home to a vast range of gorgeously designed homes, as one would expect from such a cultural hub. Our friendly professionals at Just Shutters are highly knowledgeable of Hitchin Plantation Shutters. Our passionate experts are on hand to carry out a free home design visit and consultation. We will develop your vision and produce beautifully bespoke shutters for your home.
Call your local Hitchin Plantation Shutters expert Tom Parrott (pictured below) now to schedule in a consultation on 01727 221 298.
WHAT ARE PLANTATION SHUTTERS? AND WHAT ARE THEIR BENEFITS?
Plantation shutters are commonly referred to as window shutters, and are typically fitted windows and the frames of doors. The key benefits of our Hitchin Plantation Shutters are:
– Stylish
– Increased Privacy Control
– Great Security Option
– Reduction in the Amount of Heat Lost
– Dampens Noise and Keeps Out Draughts
– Safe for Children
– Increases the Market Value of Your Property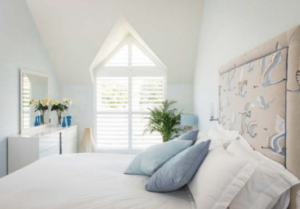 We take steps to ensure that every set of shutters that we supply is entirely bespoke. By offering a one-to-one service, our friendly experts will make sure you get the right fit and style when placing your order. Our experts will bring samples during a home design visit and can even colour match your interiors. Plus, a lifetime guarantee is available for every set of shutters that we fit.
Would you like to see examples of our fine work? Then make sure you peruse our galleries by clicking here.
GET IN TOUCH WITH JUST SHUTTERS HITCHIN
Get in touch with Tom Parrott Just Shutters Herfordshire MD, to ask any questions and to a FREE visit by our team to your home. We'll be happy to discuss your requirements in detail and advise you on how we can make your vision a reality. Phone 01727 221 298 request a brochure or get an online shutter quote estimate now.
WHY CHOOSE JUST SHUTTERS HITCHEN?
Just Shutters Hitchin have a magnificent reputation and vast range of shutters. Our experts in Hitchin Plantation shutters would be more than happy to hear from you and work with you to achieve your vision of the perfect interior. phone us on 01727 221 298 to begin a friendly discussion.
CUSTOMER SATISFACTION
When it comes to receiving positive feedback, this is, without a doubt, a point of pride for our Hitchen Plantation Shutters experts. We love hearing the kind words left for us by our customers, and you can check out some of these testimonials below.
You can also check out over 1800 unbiased reviews, simply by clicking on our Checkatrade profile.
We had our home installed with plantation shutters.
"My wife and I are very impressed with Just Shutters. From our initial contact right through to final installation everything was very professional, in fact, perfect!
Beaconsfield Window Shutters.
"Excellent overall workmanship. Minimum mess, installation speedy and efficient. I would recommend."
All the windows in my house were installed with shutters.

"Very pleased and happy with the overall service from beginning to the end. Will so definitely recommend. First class."
Beautiful shutters fitted to our bay windows.
"Firstly, their service is incredible. The fitters were very friendly and efficient and moreover the product is very high quality."