Just Shutters cordially welcomes Donovan Tompkins, the proud new business owner of Just Shutters, Milton Keynes.
Donovan joins us with an obsession with delivering exceptional levels of customer service, exceeding expectations, and a determination to deliver perfection. These qualities make him an impeccable match for the Just Shutters brand. We are delighted that he has joined the Just Shutters family!
With Donovan at the helm, Just Shutters Milton Keynes is on the brink of evolving into the ultimate hub for high-quality plantation shutters.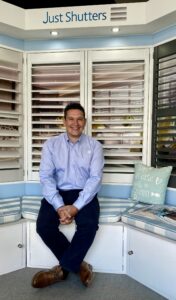 Donovan (pictured right) says, "On meeting the Just Shutters team, I instantly knew the brand was completely committed to delivering exceptional products with uncompromising levels of service".
Enhancing your home with stunning plantation shutters is undoubtedly one of the best interior design choices you can make; at Just Shutters, we are committed to bringing this transformative elegance to your living spaces. Our shutters not only elevate the aesthetics of your home but also infuse every room with a unique ambience and brightness.
The secret lies in the precise and seamless fit of our shutters to any size or style of window. Whether you have grand bay windows or cosy portholes, we will tailor them to perfection for you.
Our design style is specific, different, and carefully curated; this is what sets us apart from the rest; customers will experience the exceptional differences first-hand during their home design visit with Donovan.
GET IN TOUCH WITH DONOVAN
For the most exquisite plantation shutters available in Milton Keynes, reach out to our friendly team today to experience the true potential of our shutters.
Call us on 01908 046 385 to book an appointment with Donovan or to request a brochure.
Let Just Shutters redefine how you see your windows and elevate the charm of your home with our design wizardry.