Just Shutters Milton Keynes – Enhancing your living spaces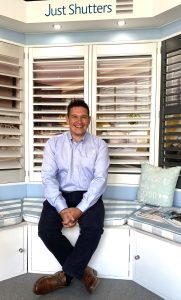 Welcome to Just Shutters, Milton Keynes, from your local shutter specialist, Donovan Tompkins. Donovan, pictured right, is an expert in his field. He is committed to bringing the transformative elegance of shutters to your home. Couple this with our affordable quality, second-to-none customer service, and our lifetime guarantee, and you will find we simply cannot be beaten.
Enhancing your living spaces with stunning shutters is undoubtedly one of the best interior design choices you can make. Not only do shutters elevate the aesthetics of your space, but they also infuse each room with a unique ambience and brightness.
Milton Keynes is a thriving town known for its diverse range of architectural styles; whether your home is a traditional cottage or a modern contemporary building, Just Shutters Milton Keynes has the perfect shutter solution for you.
The secret lies in our precise design guidelines, giving you a seamless fit with windows and doors of any size or style. Whether you have grand bay windows or cosy portholes, Donovan will tailor your shutters to perfection, ensuring a flawless finish.
THE JUST SHUTTERS DESIGN STYLE
The Just Shutters' design style is specific, different, and carefully curated; this sets us apart from the rest; customers will experience the exceptional differences first-hand during their home design visit with Donovan.
THE PRACTICAL BENEFITS OF SHUTTERS
Plantation shutters, often referred to as shutter blinds or plantation blinds, have become an incredibly popular choice of window dressing by homeowners and interior designers alike, due to their timeless elegance and versatility.
But beyond their visual appeal, Just Shutters offer practical benefits as well. With shutters, you can easily regulate the amount of light entering your home, achieving the perfect balance of privacy and illumination. Additionally, they act as a barrier against heat and cold, keeping your home comfortable and reducing energy bills year-round. You can read more about the many benefits of our shutters here.
SHUTTER SPECIALISTS
Just Shutters are highly respected and beloved shutter specialists, originally established as a family business in Dorset in 2006. We have since expanded to cover many areas of the UK and have become synonymous with excellence in plantation shutters. Renowned for our exceptional quality, service, and dedication to exceeding our customer's expectations, we are celebrated for our exquisite selection of shutters, which are designed and installed by skilled artisans.
DONOVAN TOMPKINS – YOUR LOCAL EXPERT
Your local shutter expert, Donovan, embodies this dedication. If you reside in Milton Keynes or the surrounding areas and seek high-quality shutters at an affordable price, which are backed by Just Shutter's lifetime guarantee, look no further than Just Shutters Milton Keynes.
CONTACT JUST SHUTTERS
For more information or to book a design visit which is free of charge – in which Donovan will work with you to build a bespoke package – get in touch by phoning us on 01908 046 385.
Call us today and discover how we can transform your home inspiration ideas into a delightful reality. Our friendly team are here for you to answer any questions you may have.

THE JUST SHUTTERS DIFFERENCE – WHAT OUR CUSTOMERS HAVE TO SAY
Our mission is to ensure your journey with us is nothing short of amazing, right from the very start, from your first contact with us, through to your final installation. Don't just take our word for it, we urge you to read our many positive reviews on Checkatrade.