Plantation Shutters in Ashbourne
If you're looking to purchase a delightful set of market-leading shutters, then you need only call the friendly bunch at Just Shutters. After all, we do supply and install the most exquisite selection of plantation shutters in Ashbourne. And what's more, is that we also provide this great service to customers in surrounding locations too.
Why should you choose us specifically, you ask? Simple. Because all our shutters come with a lifetime guarantee, are designed by experts, installed by professionals, and are affordably priced to boot. With shutters from Just Shutters in place, your windows and doors will be greatly enhanced. To get started, all you need to do is call us on 0115 838 2558.
Why Should You Opt for Plantation Shutters?
Because two words accurately sum up our shutters – style and practicality. Shutters look simply gorgeous, and with so many styles available, there's an option to suit any part of your home or commercial property. Practically speaking, shutters run rings around curtains as they are far more beneficial to you than this more dated contemporary. Benefits include: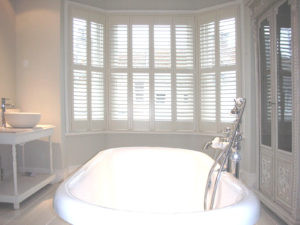 Privacy Control
Light and Shade Control
Easy to Clean
Hypoallergenic
Child-Safe
Customisable
Unlike curtains, which can be either open or closed, shutters can be varied depending on how much the slats are angled. This way, you can balance light levels with privacy more efficiently, keeping out prying eyes without leaving the room in darkness. As an added bonus, you won't need net curtains either – the bane of many homeowners.
Shutters, unlike curtains, don't harbour allergens or dust. They don't hold spores and allergens can't accumulate as they do with fabrics or untreated woods. Plus, shutters can be quickly and easily cleaned using a damp cloth. All-in-all, this makes for a healthier living or working environment, especially for those living with allergies. And if you have children, you'll be pleased to hear that with no hanging cords, shutters are completely child-safe.
100% Customisable
When you turn to Just Shutters, we'll go out of our way to ensure that you receive shutters tailored to your needs and budget. Our shutters are a great way to make smaller spaces seem larger and can be customised to fit windows or doors of any shape or size. We can even customise shutters to fit awkward shapes too, like portholes and arches.
And with an extensive range of materials and finishes available, creating the perfect style to complement your existing décor needn't be a chore.
Choose Just Shutters in Ashbourne
Why should you choose Just Shutters? Because our friendly, knowledgeable team provide a truly exceptional service. We're a local, family-run company that cares about providing quality products that our customers will love. Our reputation is one that our clientele would happily attest to. And thanks to our excellent network of franchises, our exceptional products are available in Ashbourne and beyond.
If you'd like to request a home visit, speak to our local expert today by calling Just Shutters on 0115 838 2558. Only with Just Shutters will you receive the friendly service of a small, family-run company and the service of a large, multi-franchise business.
Testimonials
With well over 8,000 customers assisted in our time spent operating, it goes without saying that we've amassed a lot of stellar reviews. You'll find many of these on our Checkatrade profile, but we've listed a few below for your consideration.
Shutters Fitted
"These guys were excellent, cannot praise them enough for their efforts."
3-Window Shutter Installation
"Thoroughly impressed with the Just Shutters team. Excellent service and advice and quality products."
6-Window and French Door Shutter Installation
"Requested shutters to be fitted to six windows and our French doors. To say that we were impressed would be an understatement. Excellent value for money and the team were a pleasure to deal with."