Plantation Shutters in Ashbourne Derbyshire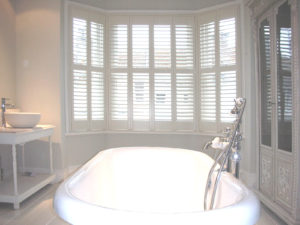 Just Shutters provide the most exceptional selection of Plantation Shutters in Ashbourne as well as surrounding locations. What's more, all our shutters come with a lifetime guarantee, designed by experts come fully installed. Our shutters really do make the very most of your windows and doors. Call our shutter specialists on 0115 838 2558 for the very best Plantation Shutters in Ashbourne.
Why choose Plantation Shutters?
Shutters are a fantastic addition to your home, not only are they beautiful and add luxury style to any room, they are also extremely practical. They have many additional lifestyle benefits such as:
– Added privacy without blocking light – and WITHOUT the need for net curtains!
– Shutters offer unsurpassed light and shade control
– Allergen, dust and mould reduction – shutters don't hold spores or provide a breeding ground for allergens like fabrics or untreated woods
– No hanging pull cords means shutters are child safe
– Shutters make the most of light and space opening up smaller spaces and making the most of larger ones
– Shutters fit any size or shape window or door; arches, angles even perfect portholes
Our extensive range of materials and finishes mean we will create your perfect shutters to suit any room no matter your taste and style – from bright and bold, to stunning white or even a warm cosy real wood – the choices are endless!
Why choose Just Shutters Ashbourne?
We are a local family company, we care about our customers, about our local reputation and our quality of service. Our shutters are second to none, our service is unsurpassed and prices are great.
We would like to show you just what we can do for you and your home, please call us for a free inspirational brochure or to arrange a home design visit with our expert Joe Musgrove – 0115 838 2558 or follow the links below.
Testimonials
Just Shutters have helped more than 8000 customers and are proud to boast over 1800 testimonials on Checkatrade – here is just a taste of what our customers say about us:
Shutters fitted
"Can not praise the service received enough. Amazing."
Fitting shutters to 3 windows
"Good service. Well fitted, polite, clean, great product."
Fitted shutters to 6 windows and French doors
"The shutter are excellent. Value for money and well made a lovely company to deal with. The staff/ fitters were a pleasure to deal with."
Shutter purchase and installation
"Beautiful from beginning to end. Good value and flexibility great communication and service. Lovely installation, would definitely recommend."