PLANTATION SHUTTERS CHESHIRE WEST
Just Shutters is the home of Plantation Shutters Cheshire West. We possess the finest range and largest choice of beautiful Plantation window shutters. As a result, we can offer the best quality shutters, industry leading service and great value guaranteed. Call your local shutter experts on 01352 872058 for more information.
WHY CHOOSE JUST SHUTTERS CHESHIRE WEST?
Cheshire is famed for its beautiful sprawling homes and stylish interiors. However big or small, you can rely on us to provide bespoke plantation shutters that elevate the luxurious feel of your home.
At Just Shutters we strive to ensure our service is always entirely bespoke and as such we offer the widest choice of finishes, materials and styles in the UK. Our local shutter experts are husband and wife team Ken and Angela. The couple are our local experts who also truly see the satisfaction of their customers as their number one priority. As a result, they will carry out a home design visit with you and colour match your décor.
Therefore, whatever your style… we have the solution for you!
With Just shutters the possibilities in your home are endless. Take a look at the countless product styles we stock by clicking here, then browse our photo galleries to get inspired!
THE BENEFITS OF SHUTTERS
Our shutters are more than just a visual addition to your home, they boast a variety of benefits such as:
– Increasing energy efficiency as a result of an additional insulating layer to your home.
– Being incredibly low maintenance, hardwearing and easy to clean.
– Proving the ability to control your home's ambiance and levels of light.
– Reducing allergens, they don't hold spores, moulds or mildews like fabrics and untreated wood.
– Reducing noise from the outside and enhancing the privacy of your home.
– Being able to resist humidity, making them perfect for your bathroom or kitchen.
– Adding value to your home.
– Being entirely bespoke to your style.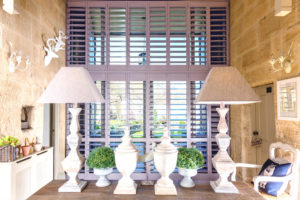 Furthermore, our window shutters also come with our industry leading lifetime guarantee!
YOUR NEXT STEPS: CONTACT JUST SHUTTERS CHESHIRE WEST
Call our friendly team of experts today for more information or to arrange your free home visit. Our experts in plantation shutters Cheshire West will show you various samples and work with you to achieve a bespoke package that truly suits your interior. Call 01352 872058 request a brochure or get an online shutter quote estimate now.
WHAT OUR CUSTOMERS SAY
Just Shutters as a company is second to none and comes highly recommended, but don't just take our word for it, here is what some of our 8000+ satisfied customers have to say about us:
"Very pleased with the standard of the product supplied, plus the quality of installation was first class!"
"Great product, service and also great communication – recommended to me and I would recommend."
"Courteous, reliable, very hard working, efficient and very good humoured. This firm cannot be faulted. As a result, I would therefore thoroughly recommend Just Shutters to anyone."
Customer satisfaction is at the heart of the Just Shutters ethos, so consequently we're incredibly proud of the huge amount of positive feedback we've received. We would love for you to view the many more reviews from our customers on checkatrade.com which as a result have given us an incredible 9.9/10 rating!