Plantation shutters in Royston – Covering Hertfordshire and Cambridgeshire
The beautiful town of Royston has a rich and vibrant history, with housing styles to match. Shutters are the perfect window covering solution whether you have a town house looking for privacy, or a semi-rural retreat on the outskirts of town looking for character and style. Whatever you are looking for, we have the perfect solution for you. Plantation shutters in Royston from your local experts!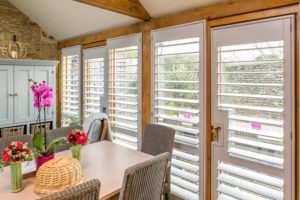 Why choose shutters?
Shutters are the perfect window covering for a whole myriad of reasons. Mostly, people choose shutters because they are simply stunning, and after all, as a lifetime guaranteed product, they will be in your home for many years to come. But when making the choice you may be pleased to know that aside from the aesthetics, shutters offer:
•Privacy
•Superior light/shade control
•Low maintenance
•No hazardous cords
•Security (an added layer of protection on windows or doors)
•Noise reduction
•Allergen reduction (do not hold dust and spores like fabrics)
•Life-time guaranteed
•Long term value
Are shutters expensive?
While shutters 'per square meter' price would be similar to a high-end curtain or blind, shutters are an investment in your home and long term provide much higher value than alternative window coverings.
Shutters will not bleach, warp or discolour over time, they will not need replacing in a few years like lesser fabric options, they will be part of your home should you ever move on, with many estate agents finding them an added value product at point of sale. But most of all, they are an investment in you and your lifestyle.
What Next?
Please browse our shutter galleries for further inspiration and request a free brochure or book an appointment here (or call 01223 632887) to see what our Royston Shutter Expert Gene Astell can offer you and your home.
You may also like to see local pages for Cambridge Plantation Shutters, Cambridgeshire Plantation Shutters, Plantation Shutters Rye and Hertfordshire Plantation Shutters.
About shutter expert Gene Astell
Gene Astell has gathered an unrivalled reputation for quality of product and service. We are delighted that Gene is the Just Shutters expert in Hertfordshire where he lives and the surrounding county of Cambridgeshire, touching on Essex and Oxfordshire, please see our map above.
Please see Checkatrade for unbiased customer reviews that make us the most recommended Shutter Specialists in the South.
Here is a taste of what customers say about Gene:
Shutters Fitted shutters to 7 windows.
"Gene was extremely professional, at consultation, he was very informative about what style was so suited to our windows. The finished shutters look amazing, so pleased with them, would happily recommend him."
Customer of Just Shutters Royston