Plantation Shutters Saffron Walden
Plantation Shutters Saffron Walden by Just Shutters, your local experts. The striking market town of Saffron Walden boasts chocolate box houses from across the eras. Those blessed to enjoy living in this vibrant place will undoubtedly be looking for the style, design and sympathetic touch when it comes to their homes. Shutters are the perfect choice.
Why shutters – and Why Just Shutters?
If you are contemplating having beautiful Plantation Shutters in your home, you probably already love the style and look, and why not, as this is the most common reason for purchase. But for those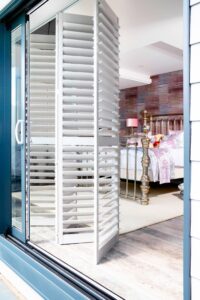 considering making shutters part of your home, you may like to know shutters can touch the head as much as the heart, and this is why:
Shutters are incredibly practical, not least of all because they are low maintenance, have no dangerous cords, and do not hold allergens that rough wooden blinds or fabric curtains do. They offer privacy and flexible lighting and shade.
At Just Shutters, we take immense pride in providing the finest choice and the broadest range of bespoke shutters in the UK. Our dedication to excellence extends beyond our products themselves.
With our expert fitting and excellent customer service, we ensure your shutter installation journey is seamless.
To demonstrate the quality of our shutters, we proudly offer a lifetime guarantee.
It comes as no surprise that we are the number one choice for shutters, as our commitment to affordable quality has garnered the trust of countless satisfied customers.
Contact Just Shutters – the home of Plantation Shutters Saffron Walden
For further information and inspiration, please request a brochure or book an appointment with our Just Shutters' Shutter Essex experts, Hayley and Terry Lancaster, to see how they can add the perfect finishing touch to any room.
About your local Shutter Experts
We have an unrivalled reputation in the Shutter industry; please see Just Shutters on Checkatrade to see Terry and Hayley's flawless scores. Here is just a taste of what customers have written about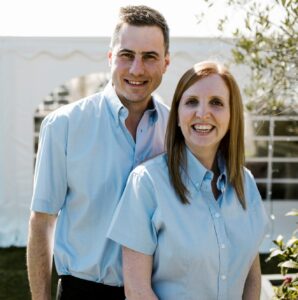 us:
Shutters 10/10
"I love my shutters. They have completely changed the look of my house. The company was just lovely. No pressure. And we didn't get them done straight after we got our quote, but when we called up and asked to go ahead they was lovely. And not a single bit of mess when they was fitted! 5 star!"
Supply and Fit Shutters 10/10
"Excellent service; Terry installed the shutters he was very tidy and efficient. The whole process, from quote to installation, was so easy, I am so happy with the end result. Would highly recommend."
Shutters installed at the front of the house 10/10
"Thank you Terry for a fantastic shutter installation. Everything from the quote, expectation management on delivery and the installation were on point and highly professional. Very very happy with the results. For those looking to have shutters installed, I would recommend Just Shutters without hesitation. Great job."