Window shutters Cardiff
Just Shutters provide stunning interior shutters for windows and doors across Cardiff and South Wales. Window shutters Cardiff by Just Shutters – combining quality, style and value. Call us on 0845 894 0700.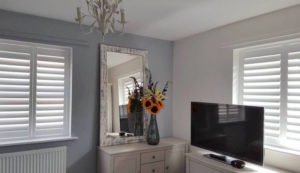 What are Plantation Shutters?
Plantation shutters are a versatile and super stylish window covering. Shutters combine beautiful designer looks with a multitude of practical benefits.
Shutters are so very fast becoming the window covering of choice. Having made their mark with designers, hotels and glossy magazines, homeowners are following suit and as such, the shutter market has grown by over 40% in the past decade as savvy buyers realise their great benefits and value.
At Just Shutters we stock the UK's largest, and arguably the most stunning, range of shutters. Browse our photo galleries to get inspired about the possibility of shutters in your home! Then take at look at our range of products and materials to see how shutters could practically fit into your home.
Some of the benefits of shutters:
– Privacy.
– Security.
– Value – adding long term value to your home.
– Noise reducing.
– Allergen reducing.
– Hard wearing.
– Child safe.
– Lifetime guaranteed.
Who are Just Shutters?
Just Shutters are a much-loved and trusted specialist shutter company, overall the most reviewed and recommended in our areas on Checkatrade, we pride ourselves on our second-to-none quality and service.
Window Shutters Cardiff are our one and only focus, so they are not a side-line or add on, they are our craft. To find out more about the Just Shutters difference please contact us and experience our passion for shutters and our customer service for yourself.
How can we help you?
Please feel free to browse our price calculator pages, download a brochure and be inspired by our galleries. For further information, for a home visit or a postal brochure please give us a call on: 0845 894 0700. We look forward to hearing from you.
Customer Testimonials
We can of course sing our own praises all day long, but we would far rather hand over to our customers!
I am extremely pleased with both work and service.
"Extremely professional service and very both satisfied with the finished products and service."
Shutters fitted to two windows
"From start to finish they lived up to their promises length of time for cleaning and fitting."
New plantation shutters fitted to front bay window.
"Very prompt installation service. Good quality product and fabulous service."