ANDOVER PLANTATION SHUTTERS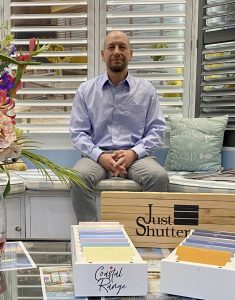 Andover in Hampshire is lucky to have a wide spectrum of glorious buildings, ranging from houses that date back to the Saxon era to present-day developments. There is much to admire here, and you can rely on Just Shutters in Andover – run by specialist Gareth Foulston – to provide custom-crafted plantation shutters that will sympathetically enhance each and every kind of home locally.
With Gareth's keen eye for detail there is no-one better qualified to deliver superb quality and surprising value to Andover residents.
The straightforward aim is to create absolute perfection in plantation shutters, and this is achieved by working closely with you – listening to what you want to achieve with the upgrade of your property. Thanks to a carefully evolved range of styles, we can plan the perfect design to complement your interior decor theme.
THE BEAUTY IN GOING TAILOR-MADE
Over the years we've realised that many Andover-based customers automatically assume it will be too expensive to have new shutters made to measure. Yet the truth is that tailored shutters are available at cost-effective prices that won't break the bank.
For the discerning homeowner, shutters are quickly becoming the number one choice of window covering. we've seen a steady increase in custom, often down to simple word-of-mouth referrals in and around Andover – something that makes us very proud.
THE MANY BENITITS OF SHUTTERS
It's easy to understand how the beauty of these shutters brings so many benefits on top of the transformational effect they have on the look and feel of your home:
Added financial value.
Reduction in allergens.
Made to your exact specification.
Increased security and privacy.
Low maintenance.
Perfect for light and shade control.
Energy efficient.
Lasting quality for many years ahead.
As with any upgrade, it's important to ensure you engage genuine professionals, like us, who can demonstrate a track record of past excellence. This is where Just Shutters stands head and shoulders above the Andover competition; and numerous new clients have come to us purely by referral for many years.
With our family company roots in Dorset, we have grown steadily and built up a loyal client base all over the country. Design versatility, fantastic quality and an unswerving approach to excellent customer service have been key. Once you've experienced the finished installation of your plantation shutters in Andover, we're confident you'll see why.
SEE THE SHUTTERS FOR YOURSELF
Please take the time to browse through our online product galleries. Here you will discover numerous images from our previous installations that will inspire, guide, and reassure you.
Then we can have an informal chat about how we can make them work beautifully in your home.
GET IN TOUCH
You can reach our friendly team whenever you want by calling us on 01722 440 714 or follow the links below.