Are you transforming your home and want to find a company that specialises in designing and manufacturing beautiful shutters? Sherborne residents should look no further than Just Shutters. We are the UK's largest independent shutter company, producing the best value-for-money products for our customers. To arrange a home visit and quotation, give us a call on 01305 230321.
Bespoke Shutters in Sherborne
If you are redecorating your home or have recently moved into a new property and want to revamp one of the rooms, then enlist our expertise. Shutters can make a huge difference to the aesthetics and ambiance of a room, and luckily for you, we have the best Sherborne shutters available. Our team of professionals are on hand to meet your requests.
Most interior designers would tell you that shutters are the better option due to them being equally as practical and aesthetically pleasing. Our shutters, Sherborne clients, are bespoke and tailored to your needs and specifications. We offer a wide range of options for our clients, including the following: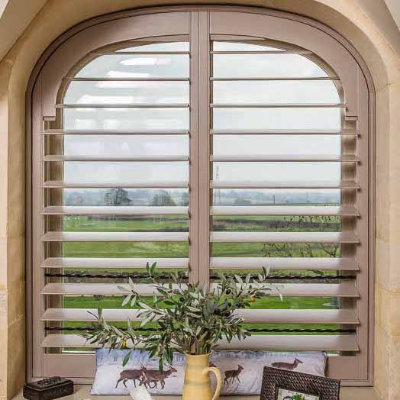 Here at Just Shutters, we have an exclusive range that you will not be able to get anywhere else! We go above and beyond for our customers as we want you to have the best possible shutters in Sherborne. You can arrange a home visit so that a member of our team can gather the correct measurements and learn more about your preferences.
Perhaps you are concerned that our Sherborne shutters will not fit in an abstract frame, but you would be wrong! The beauty of our company is that we can design shutters that will slot perfectly into any sized-window frame. We also stock an array of hinges and fixings to suit any style and shape.
We Design High Quality Security Shutters
If you have a checklist of what you are looking for from your shutters, Sherborne residents may want to consider security elements. Shutters are more than just an attractive feature in a room; they can act as a protective barrier. Here at Just Shutters, we offer interior security shutters, which are better alternatives to traditional options.
You will not need burglar bars or steel rollers thanks to our shutters in Sherborne. We can produce rust-free aluminium options that are stylish, practical, and secure. Each one will contain a patented key lock mechanism to give you that extra protection you need.
Why We Provide the Best Shutters Sherborne Has Seen
Since we were established in 2006, Just Shutters has become the go-to company for bespoke and stylish shutters. We are the largest independent shutter company in the UK, offering our expertise up and down the country. Due to our stellar services and fantastic reputation, there is no doubt that we should be your first choice for Sherborne shutters.
We treat each project individually, ensuring that we meet our customer's specific needs and design preferences. The range that we have at our disposal is extensive, so you are bound to find the perfect shutters. Sherborne is one of the many locations where we provide our services, and everything we do is tailored to you.
With an array of shapes, sizes, colours, and finishes available, you will be hard pressed to find better shutters. Sherborne residents can rest assured that our products are priced fairly, and each one comes with a lifetime guarantee. If you are yet to be convinced that we are the right company for you, take a look at our impressive scores on Checkatrade. We take great pride in our work, so add yourself to our list of satisfied customers.
Contact Us Today
To arrange a home visit and to receive a quotation for our fantastic shutters, Sherborne residents should call 01305 230321. Alternatively, contact us by filling in our online form and we will get back to you as soon as possible.