In short, the answer is yes! Many of us attempt to reduce our impact on the environment, as well as save money. Therefore, it is no wonder that energy efficiency is at the top of many people's priorities. This is why many of our customers ask us "are window shutters energy efficient?".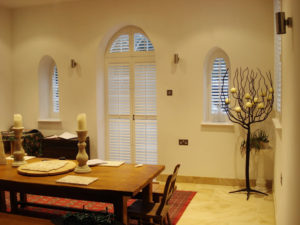 Are window shutters energy efficient? And how?
Window shutters are fantastic thermal insulators for your home when the louvers are closed. This is as a result of the pocket of air that is created between the shutters and the window – it is surprising how air can act as an insulator!
Once open this layer of insulation is lost. However, the material that your shutters are made from can still insulate your home to a certain extent. Click here to view our full product range.
U-VALUE
U-value is a measurement of how effective a material is as an insulator in homes. The lower the U-value, the better the insulator. For example a solid brick wall has a U-value of 2.0 W/m², while double glazed windows have a U value of 2.9. This goes to show that good quality energy efficient window dressings can reduce your heat loss and improve your energy bills.
ENERGY SAVING BLINDS OR SHUTTERS?
Research by the Glasgow Caledonian University shows that while blinds can make an improvement in energy efficiency, shutters were a clear winner. They conducted a study on a single glazed sash window that had been draught proofed, they tested various products and found the following:
– Before any window dressing the U-Value of the single glazed unit was 4.3W/m2K.
– A Victorian roller blind reduced heat loss by 28%.
– A roller blind reduced heat loss by 22%.'
– Curtains however only reduced heat loss by 14%.
– Shutters were the clear stand out winner with a whopping 51% reduction in heat loss.
– After shutters were fitted the tested window went from a U-Value of 4.3 W/m²K to 2.2 W/m²K.
It is advised that shutters are kept closed during the coldest times of winter, such as the evenings and nights. This will create a cosy and warm atmosphere, as well as saving money on heating bills!
The other benefits of plantation shutters
There are countless other benefits to our shutters. The main benefit is of course that they are incredibly stunning!
Therefore, making for a luxury addition to any interior. Click here to browse our stunning photo galleries.
Furthermore, shutters are incredibly practical! This is due to various benefits, for instance:
-Reducing noise pollution from the outdoors
-Enhancing the level of security of your windows
-Improving your privacy
-Ease of cleaning and maintenance
-Incredibly durable and long lasting
As a result of these countless benefits, we are confident that you will be fully satisfied with your shutters. We are so confident that we offer a lifetime guarantee on our products!
Contact Just Shutters
Our friendly team of experts are on hand to answer any questions you may have! Call us on 01202 240769, or alternatively use the buttons below.
We are incredibly proud of the positive feedback we frequently receive. Therefore, we are delighted with the 9.9/10 rating we have received on Checkatrade from over 1700 independent reviews!