Are you refurbishing your bathroom and need some new shutters to complete the design of the room? Well, look no further than our team here at Just Shutters. We design, manufacture and fit a range of beautiful bathroom shutters in Bristol for our customers. We offer a truly bespoke service, ensuring that all of our shutters fit perfectly in your home. To arrange a home visit, give us a call on 0117 370 1594.
Bristol Bathroom Shutters Made to Measure
Renovating a property is exciting and stressful in equal measure. If you are refurbishing an entire room, you will need to think of every detail you want to enhance. When it comes to bathroom shutters, Bristol residents, it can be easy to go for bog-standard options, but high quality shutters can immediately boost the appearance of your space.
The bathroom is one of the rooms in a property that is regularly used, so it is important to make sure that your shutters are durable and can cope with moisture and humidity. Our plantation bathroom shutters in Bristol are hard-wearing and long-lasting. They will not buckle under the change in atmosphere that regularly occurs in bathrooms over the course of a day.
The practical elements of our Bristol bathroom shutters are second to none, but they are also aesthetically pleasing. Your bathroom could be beautifully designed with stunning décor, but if your shutters are not up to standard, it could dampen the entire ambiance of the space. When you turn to Just Shutters, the wide range of shutters that we offer are all built using top-quality materials.
Bathroom shutters, Bristol residents, also need to offer privacy. Our options are flexible in that they can completely shut out the window view or stay open to bring in natural light. Rest assured that all of our shutters are easy to maintain and clean, so you will not have to worry about that aspect.
We Have Shutters for All Shapes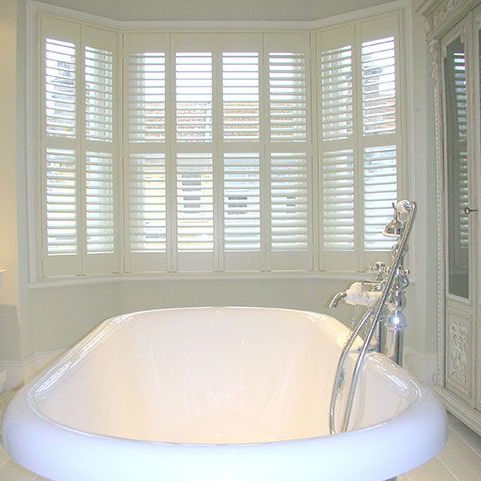 In some properties, windows have been built into abstract frames, which could make your search for bathroom shutters in Bristol slightly more difficult. However, if you turn to Just Shutters, we can solve your problem. Our team can design bespoke shutters that slot into any frame and shape, including the following:
Circle
Diamond
Curved
Square
And More!
Once you have contacted a member of our team to discuss options with regards to Bristol bathroom shutters, we will arrange a home visit. A member of our team will gather all the relevant measurements and talk to you about your design ideas. Rest assured that we will keep you informed throughout every step of the process.
Why Purchase Our Bathroom Shutters, Bristol Residents?
For the best bathroom shutters in Bristol, look no further than Just Shutters. There is no doubt that we should be your first and only option when looking for plantation shutters in your area. We are the UK's largest independent shutter company; initially establishing our brand in 2006. Since then, we have gone on to become a trusted and reputable business in the industry.
We began our journey in Dorset, but we now stretch all across the country, providing customers with an array of products, including bathroom shutters. In Bristol, we have a team of experts on hand to answer your call and create bespoke, made to measure shutters for your property. We also have an exclusive range that you will not find elsewhere!
Customer service is incredibly important to us, which is why we go above and beyond to make sure that you are satisfied with the final product. If you need a company to manufacture bathroom shutters in Bristol, then you have come to the right place. We are proud of our stellar workmanship and creative skill. In fact, we have gained impressive scores on Checkatrade, so you can put your full trust in our team.
Contact Us Today
If you would like to learn more about our products or to arrange a design visit to discuss bathroom shutters in Bristol, get in touch today. You can reach us by calling 0117 370 1594 or by filling in our contact form, and we will get back to you as soon as possible.