Bebington Plantation Shutters
Welcome to Just Shutters – the home of the highest quality Bebington plantation shutters in the business. We're the true local experts when it comes to window coverings and you can rely on our expertise and impartial advice.
Our team consists of passionate professionals who are committed to providing the finest quality products available on the market coupled with customer service excellence. The possibilities for shutters in your home are endless and we'd be happy to talk you through the benefits you can enjoy.
You're more than welcome to call our team for a chat regarding your ideas and requirements. Alternatively, we'd be happy to book a home design visit to see exactly what we'll be working with. This service is completely free of charge and you have no obligation to commit to a purchase – no hidden fees, either.
Conveniently located on the Eastern side of the Wirral peninsula, the town of Bebington is one of the most desirable places to live in the UK. Therefore, it makes sense that there are a variety of luxurious homes in the area.

Plantation Shutters in Bebington
Our local team members are dedicated to providing the quality and service one would expect of this sought-after area. We will bring you a set of shutters that are long-lasting, aesthetically pleasing, and will add an unrivalled level of opulence to your existing living space.
Plantation shutters – sometimes referred to as "shutter blinds" or simply "window shutters" – are a truly fantastic option for your home. When compared to alternatives like curtains or traditional blinds, plantation shutters offer much more style and practicality.
Hard-wearing, versatile and offering fantastic convenience – you simply cannot go wrong with our top quality plantation shutters. Bebington, you will also be happy to know that these products require virtually no maintenance as the years go by.
The selection of plantation shutters Bebington based Just Shutters offers is the largest in the UK. Not only that, we stock many exclusive ranges that you won't find anywhere else. Many of these options are available to view in our online brochures.
Trust the Experts
The team handling your request for plantation shutters in Bebington consists of husband and wife Ken and Angela who will always be on hand to help you achieve your idea of the perfect home. You can book an appointment with us at your earliest convenience or request a brochure first in order to further familiarise yourself with our excellent range of shutters.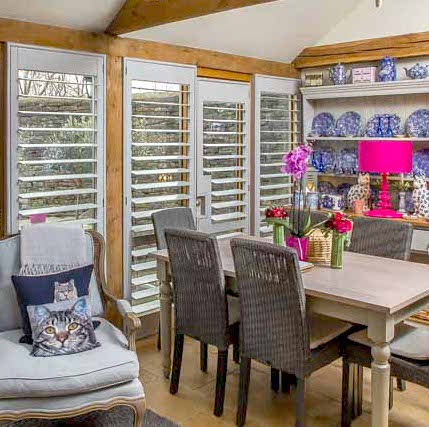 We've been in the business for many years and built up an excellent reputation in Bebington as well as nationwide. Countless new customers now discover our company through a recommendation or a referral by a previous client.
This makes us very happy because we're a company that will always go the extra mile in order to facilitate a customer request, whatever it may be. With over 1600 positive reviews on Checkatrade, you will know that you're dealing with true experts who will never leave a stone unturned.
Here at Just Shutters Bebington, we know that no two clients are ever exactly the same. We will take the time to get to know you, your property, and your unique tastes and requirements. The final product will be exactly what you want and more – with no compromises.
Contact Us Today
Give our friendly experts a call now on 01244 567 890 and let's get the ball rolling on your project!