Have you spent hours going through various supplier websites to discover which provider has the best selection of quality bedroom shutters in Bristol? If that accurately describes your current situation, you've hit the jackpot by finding Just Shutters today. Just give us a call on 08458 940 700 and we'll discuss your requirements in some more detail.
The best bedroom shutters Bristol can get
Welcome to Just Shutters, where we specialise in offering the complete range of wooden and louvre plantation shutters that are suitable for all bedrooms, regardless of aesthetic. All of our bedroom shutters in Bristol are fully bespoke, so you'll get exactly what you have been looking for.
Just Shutters has all the standard shapes and sizes available. On top of these products, however, we also have many unique options that your guests are going to love. Your new Bristol bedroom shutters will be crafted from quality materials and professionally installed by our experienced team.
During our many years of successful operation, we have completed projects for more than 7000 customers, which is something other providers can't match. We are, therefore, by far the best choice when looking for the finest bedroom shutters, Bristol residents.
Exactly what you want for your bedroom
Here at Just Shutters, we are extremely proud of the stunningly wide range of products that we have on offer. You are more than welcome to check out some of our shutter styles online and browse through our colourful shutter images.
Colours and finishes that will really bring your bedroom to life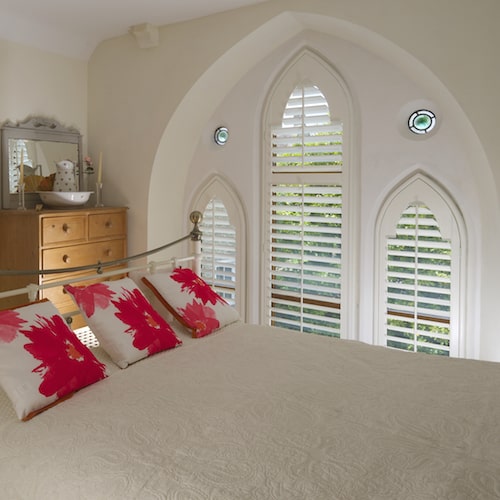 For a more comprehensive overview of each style, you can simply follow the links below. You will find out more about all of the materials that our bedroom shutters in Bristol are available in. This includes, but isn't limited to, all of the following options:
Reasons to get your Bristol bedroom shutters from Just Shutters
Just Shutters is the leading local shutter specialist. Our team is here to find you a product that will transform your property in ways that you never thought possible before. With more than 30 years of experience in Bristol bedroom shutters, we are the obvious choice.
We fully understand that a house can't really be a home until the interior design matches your unique tastes. Before you choose your bedroom shutters in Bristol, we'd be happy to carry out a consultation to get an overview of your exact needs.
You will be pleased to know that every bedroom shutter set that we supply you with comes with a lifetime guarantee. If you have any issues with your purchase, then we are always on standby to assist and advise.
Next steps
When you want to buy top quality bedroom shutters in Bristol, you now know the only place to come. Despite our impressive growth over the years, a personal touch is still at the heart of our service.
We make sure that every customer gets the most out of their new set of bedroom shutters. Bristol clients are encouraged to reach out to us using one of the below contact methods if they want more information about our products – we're here to help.
Contact us now to buy bedroom shutters in Bristol
Convinced that we're the top company to get your bedroom shutters in Bristol from? You can reach us by calling 08458 940 700, e-mailing information@79.170.40.239 or filling in our online form. Whichever way you get in touch, we'll get back to you very shortly using your preferred method.