Just Shutters Birmingham launch a great success
Just Shutters Birmingham launch a great success. We are delighted with the success of our latest franchise! Just Shutters Birmingham, run by entrepreneur and family man Andy Cox-Peel, has truly 'hit the ground running' in the first weeks of operation.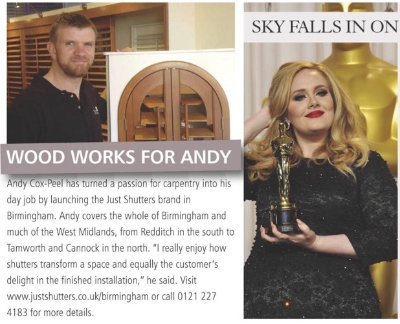 Having completed the first stages of training and really getting to grips with both the product and the impeccable Just Shutters standards of service, Andy jumped straight into a week filled with appointments and even took his first orders!
Right: Andy Cox-Peel pictured in award winning Midlands magazine 'Birmingham Living'.
Appointments from day one
Supported by the Just Shutters Head Office team, Andy says; 'I am encouraged that there have been appointments made and that there have been some converted to orders.'
Behind the scenes we have pulled out all the stops. We have ensured support, training and marketing were all in place for a smooth and successful launch.
Charlotte Fantelli marketing manager says; 'Starting a new business in a new area is a challenge. However, we have perfected this over the years and know how to balance quick, effective direct marketing strategies that convert quickly. Furthermore we implement longer term brand building in a new location.
Andy says; 'I definitely needed this boost to get going – very helpful indeed.'
'Our experience has paid dividends. This has allowed us to fill Andy's schedule and start receiving customer enquiries from day one,' Charlotte adds.
Andy is still undergoing further training but says; 'I have learnt lots.'
We take great pride in the overall support we give our franchisees. Andy states 'support has been good! Office crew have been very helpful and supportive in getting me used to systems and getting appointments booked in. Daniel is great in giving advice'
'Chris has also helped me on one order whilst he was in Cyprus!' He adds.
Andy and the Head Office team are very encouraged at his flying start. We have overall confidence that he will go from strength to strength.
To book an appointment with Andy please visit Just Shutters Birmingham. Call us on 0121 227 4183 or follow the buttons below:
Call us on 01202 233744 or alternatively visit www.shutter-franchise.co.uk.