Discover Buckley's Premier Plantation Shutters – Brought to You by Just Shutters
Meet Duane Butterfield, your dedicated local expert for plantation shutters in Buckley and the surrounding areas. Duane possesses a profound passion for shutters and an impeccable eye for detail. He upholds the Just Shutters tradition of providing quality local service, setting the gold standard in the industry.
Unlocking the Beauty and Benefits of Plantation Shutters
Our plantation shutters offer an array of remarkable benefits. Firstly, they are simply stunning, infusing a touch of sheer elegance into any interior. Explore our captivating photo galleries for inspiration. Secondly, our shutters bring a wealth of practical advantages to your home: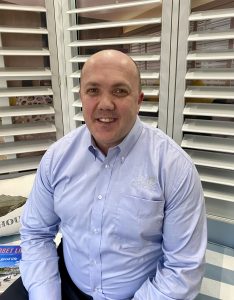 - Heat Insulation: Keeping your home cosy and energy-efficient.
- Noise Reduction: Creating a serene and tranquil living space.
- Ambiance Control: Adjusting light and atmosphere to your liking.
- Low Maintenance: Easy to clean and maintain, saving you time and effort.
- Privacy and Security: Enhanced seclusion and protection.
- Ease of Use: Smooth and intuitive operation.
By installing shutters in your home, you not only enjoy these benefits but also actively increase your property's value. Moreover, our plantation shutters come with a lifetime guarantee!
Why Just Shutters?
At Just Shutters, we offer the UK's most extensive range of plantation shutters, including our exclusive collections that you won't find elsewhere.
But we don't stop at providing exceptional products; we deliver a full-service experience. Our experts create a tailor-made package during your home design visit, ensuring your made-to-measure shutters are genuinely unique. All of this is accomplished while providing a first-class, personalised service.
Get in Touch
We invite you to contact us at 01244 567 890 or simply click the button above. Our friendly team is ready to assist you, and we're thrilled to take the next step in enhancing your living spaces with our exquisite plantation shutters.
Testimonials from Our Satisfied Customers
Customer satisfaction lies at the core of our mission at Just Shutters. Whether we're conducting a home design visit or installing your shutters, our aim is for you to be entirely delighted with the service you receive. This commitment has earned us a remarkable 9.9/10 rating based on thousands of independent reviews on Checkatrade. Here's what some of our contented customers had to say:
- "From the initial visit, quote, and fitting, everything was handled professionally. The communication was clear, and the installation was spotless. I would wholeheartedly recommend Just Shutters to anyone."
- "This is the second time we have chosen Just Shutters. They were as professional, friendly, and efficient as the first time. We would wholeheartedly recommend them to our friends and family."