Have you been searching for a proven supplier of high-quality shutters? Then you need to contact Just Shutters, the number one provider of café style shutters in Bristol. You can learn more about our excellent range of products today by giving our friendly team a call on 01173 701 594. Alternatively, fill out our online contact form, and we'll get back to you as soon as we can.
The Best Café Style Shutters Bristol Clients Can Get
Here at Just Shutters, we're proud to offer clients an exceptional range of café style shutters in Bristol. Our team will work closely with you to find out your requirements and manufacture a product that leaves you wholly satisfied. Continued reading to find out more about the different styles we have available and discover how we can help you.
For many years, we have been providing clients with high-quality shutters, and over time, have built up an enviable reputation. Our team have continued to improve their crafting and installation skills, so they are now confident in being able to meet the needs of any client. It is thanks to the skilled craftsmanship of our team that many people consider us to be the best supplier of café style shutters Bristol has to offer.
The Number One Provider of Café Style Shutters in Bristol
Shutters can significantly improve your home in many ways; from giving you more control over the amount of light in a room to complimenting your existing interior design. In order for shutters to last though, it is imperative that you order them from a proven supplier that can carry out installation correctly. It because of this need for a professional that many people come to us at Just Shutters when searching for Bristol café style shutters.
When you first approach our team, they will take you through the café style shutters we have available and introduce you to our customisation options. You can decide on everything from the final shape to the colour as all our shutters are made to suit your needs. The vast range of customisation options we have makes us the ideal choice for those seeking café style shutters in Bristol.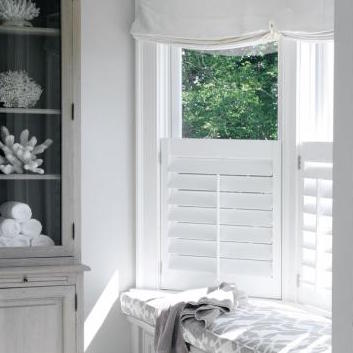 Aside from our café style shutters, Bristol clients can also take advantage of the many other products we have available, including:
Tracked Shutters
Tier on Tier Shutters
Solid Shutters
Bay Window Shutters
And More!
We realise that different customers require a variety of shutter styles depending on their home. As such, we've made an effort to cater to as many clients as possible by expanding the range of shutters we have available. This large selection of products makes us the best supplier available for more than just café style shutters in Bristol.
Why Choose Us for Bristol Café Style Shutters?
We at Just Shutters want to assure our clients that when they hire our team, they'll be working with reliable suppliers. As such, we're proud to boast that we are members of Checkatrade and have an excellent profile with them that boasts near-perfect reviews for all aspects of our service. This accreditation proves that we are one of the most trustworthy companies available for café style shutters in Bristol.
Instead of just reading about our gorgeous products, why not take a look for yourself? Our dedicated online gallery for our range of Bristol café style shutters shows off some of our best work from recent projects. Browsing through these images will give you a better idea of what to expect when you hire the services of our team.
Contact Us
So, if you'd like to take advantage of our exceptional range of café style shutters in Bristol, don't hesitate to get in touch with us at Just Shutters today. Our team are always willing to discuss our products in more detail, so don't hesitate to contact us if you require further information. You can reach us over the phone now by calling 01173 701 594, or you can fill out our online contact form.