Commercial Plantation Shutters
Beautiful Commercial Plantation Shutters. Our shutters are perfect for hotels, schools, health centres, leisure centres, care homes, offices, restaurants and more.
Just Shutters is your natural destination for Commercial Plantation Shutters in the UK. At Just Shutters we will work closely with you and will deliver on our promises. We ensure that your deadlines are met. We will support you should you ever require further service.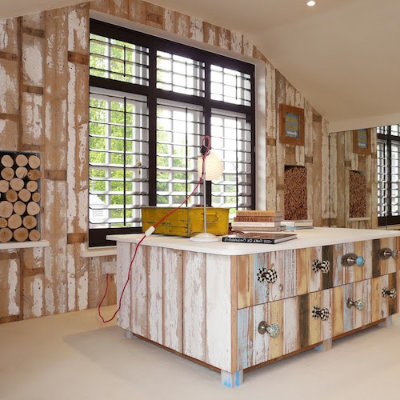 Just Shutters are leaders in the field of supplying and installing the highest quality Plantation Shutters for the commercial market. We have a great depth of experience gained from successfully working with some of Britain's top interior designers many of whom have appeared on television.
Just Shutters offer a first class service to architects, developers and business people looking for a stylish window dressing solution. We provide made to measure window shutters to complement most commercial environments. Shutters have a level of sophistication unchallenged by any other window (or door) dressing solution. We will completely and economically transform the look, feel and character of any room for you.
Why choose plantation shutters for your business?
Plantation Shutters are perfect when installed in hotels, offices, conference rooms, shops, bars and apartments. While our beautiful range of cafe style shutters perfect for cafes and restaurants. They work exceptionally well when used on internal and external facing windows. Shutters also work as room dividers by breaking down large spaces into manageable areas. They add great style, give real privacy and will reduce the glare and heat from the sun without reducing the rooms ambient light level. Plantation Shutters will also help reduce noise and add to a room's security.
Plantation Shutters are ideally suited for windows that are not regularly shaped. They work well with circular, triangular and other interestingly shaped openings. With tracking systems and options of solid base panels combined with louvred top panels, restaurants and other rooms can be divided whilst leaving the impression of openness. Plantation Shutters from Just Shutters will add flexibility and character. They are surprisingly economical compared with other solutions. You may also like to see our plantation shutter detail images.
Plantation Shutters have real advantages over other styles of window dressings: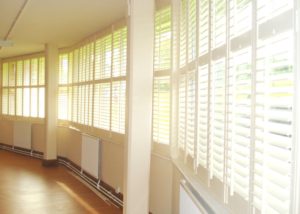 Plantation Shutters will look stunning, they will add style to all environments and offer near blackout conditions for hotel rooms. They offer great privacy for offices and help dampen noise levels in restaurants, bars and cafe's. Plantation Shutters have secure catches to prevent them blowing in the wind. They are highly durable, exceptionally hard wearing as well as having the benefit of being easy to clean with no maintenance or repainting required. Furthermore, with our range of interior security shutters, you can keep your commercial premises safe whilst retaining an on trend style.
Vertical Blinds can be distracting as they will flap around in a breeze, they have a tendency to break leaving gaps to the window finish and give a poor perception of the room they are in. Vertical Blinds also have unsightly cords, rods or chains dangling in the window.
Venetian Blinds are awkward to raise and lower with the chance of the control cords tangling and jamming. Venetian blinds are also susceptible to being bent when people pull at them to look through. In addition, they will add to a commercial environments cleaning bill as they are very difficult to clean, this is also where a lot of instances of damage can occur.
Curtains can quickly fade and look tired, they will also take on a musty or smoky smell. Curtains are expensive to clean and rehang and their maintenance is just a distraction in a busy working environment.
Roller Blinds whilst being very simple and generally straight forward do little for a room's style and ambience. They are also prone to damage to the supporting brackets and will crease, stain and jam.