Have you been searching for a reliable supplier that can provide you with bespoke window shutters? Then you need to contact Just Shutters, the number one supplier of conservatory shutters in Bristol. You can learn more about our excellent products and services today by giving our helpful team a call on 0117 370 1594. Alternatively, send an email to information@79.170.40.239, and we'll get back to you with the required information promptly.
The Best Conservatory Shutters Bristol Has to Offer
Here at Just Shutters, we're proud to offer our clients the best conservatory shutters in Bristol. Our team are determined to provide clients with a product that fulfils all their requirements and a service that exceeds their expectations. Continue reading to find out more about the shutters we offer and discover why we're such a popular supplier of shutters.
We have been operating for many years, and over time have built up an enviable reputation. All of our staff are fully trained with regards to the crafting of shutters and have improved their skills thanks to their work on various projects. The experience of our team makes us the best contractor for conservatory shutters Bristol clients have available.
Your Go-To Contractor for Conservatory Shutters in Bristol
At Just Shutters, we believe it is essential to offer clients a broad range of customisation options so that they can design shutters that are perfect for their home. You decide on everything from the shape to the colour, with our team being available to advise you at every step. This personalised service is why we're such a popular choice for Bristol conservatory shutters.
Once you have decided on your shutters, our team will schedule a convenient date to fit them. We are renowned for our speed and efficiency, so you can rely on us to get the project completed as quickly as possible. This straightforward installation process makes us the go-to contractor for many who are seeking conservatory shutters in Bristol.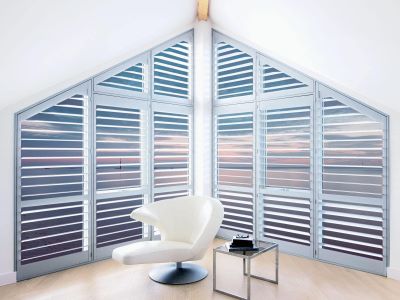 Aside from our conservatory shutters, Bristol customers can also take advantage of the many other styles we have on offer, including:
Café Style
Tracked Shutters
Tier on Tier
Bay Windows
And More!
We want to cater to as many clients as possible, which is why we've continued to expand the range of shutters we have available. Our team are confident in their ability to craft and fit any type of shutter competently. It is because of this versatility that we are considered to be the most flexible provider of conservatory shutters in Bristol.
Why Choose Us for Bristol Conservatory Shutters?
We at Just Shutters understand how important it is for customers to know that they're dealing with a proven supplier. As such, we're proud to boast that Checkatrade fully accredits our services and that we have a profile with them that boasts near-perfect ratings for all aspects of our work. An endorsement such as this sets us apart as a trustworthy supplier of conservatory shutters in Bristol.
Rather than just reading about our impressive range of shutters, why not take a look for yourself? Our online galleries show off some of our best work from recent times through images that demonstrate the high level of quality we offer. Browsing through these images will give you a better idea of what to expect when you choose our team for Bristol conservatory shutters.
Contact Us
So, if you'd like to take advantage of our conservatory shutters in Bristol, be sure to contact us at Just Shutters today. Our staff are more than happy to discuss our products and services in more detail, so don't hesitate to get in touch if you have any further questions. You can give us a call now on 0117 370 1594, or send an email to information@79.170.40.239, and we'll get back to you as soon as possible.