DEVIZES SHUTTERS – THE PLANTATION SHUTTER EXPERTS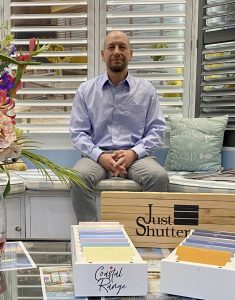 Part of the wonderful appeal of Devizes, enfolded in the Wiltshire countryside, is the sense of its own identity. It's been a bustling market town for centuries, and as well as the regular produce and farmers' markets there are some 70 fiercely independent local shops that make this a social hub like no other.
You might also be aware of the more than 500 listed historic buildings. In fact, one of them might just be your home or else form a backdrop to your daily life. So, if you've read this far and you're looking to install plantation shutters, we're pretty sure you'll want them to be entirely harmonious with your Devizes surroundings. And this is exactly where Just Shutters, run by Gareth Foulston, should be your considered choice. Excellent value and a lifetime guarantee are merely an integral part of our unusually attentive service.
WHY CHOOSE JUST SHUTTERS IN DEVIZES?
Our finely crafted shutters make all styles and ages of residential buildings around Devizes more usable, better insulated, more handsome and more fit-for-purpose. We design and fit them on a tailor-made basis from a carefully created range. This offers tasteful choices and options for all kinds of home settings – anything from an intimate modern apartment to a large period house – but in each individual case we work closely with you from the outset to get the right effect and maximum practicality. We know this is the best way, from the outset, to achieve a completely satisfying result.
WHY CHOOSE JUST SHUTTERS?
In the first instance, we urge you to simply view our ratings at online sources such as Checkatrade, where the raw data of our excellent customer service and satisfaction speaks for itself.
But just as tangible is the continuing ethos of the company. We opened as a small local business in Dorset many years ago, and despite steady growth across many sought-after areas of the UK, we are still immensely proud that so many of our new installations come via word-of-mouth from our existing customers. Just Shutters is indeed now a quality brand with national recognition, but we hold on dearly to a reputation forged by old-fashioned values and pride in everything we do.
CONTACT US
We would love to discuss your ideas for plantation shutters for your home in Devizes and the surrounding area, so do please contact us by phone on 01722 440 714 to speak to one of our friendly team.
Alternatively, follow the useful links here. We know we'll be able to work with you to create shutters that fit and function beautifully but will also enhance the character and practicality of your Devizes home.