Dorchester Plantation Shutters
Dorchester plantation shutters by Just Shutters, Dorset's longest established specialist shutter company. We are regarded as the county's premier shutter company, designing and installing stunning interior shutters in Dorchester and beyond. Your local expert Gavin McGuiness is available to listen and guide you on the finest shutters for your home or business. Call 01305 230321.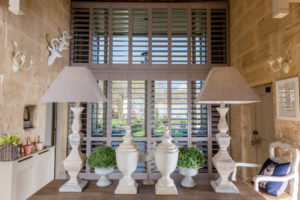 Shutters have fast become the most popular choice of window covering as a result of their popularity with interior designers!  Not only do they look great but they also boast several other features such as:
– Adding value to your home
– Enhancing privacy while not compromising on style
– Improving home security
There is no doubt that we have the best shutters around, and you can see for yourself by scrolling through our photo galleries.
Just Shutters are the county's number one shutter company. Having been established on the sunny Dorset coast, we have now grown to cover 165 towns and cities across the UK. We still are your local experts in Dorchester Plantation Shutters; only with the quality, buying power AND lifetime guarantee of an established brand you can rely upon.
Interior shutters have plenty of benefits
Many people opt for curtains or blinds, but it is a no-brainer to choose shutters. They are incredibly versatile and they possess an array of practical and aesthetic elements. By opting for our services, you will get to customise your shutters so that they are attractive and reflect your decor. Plus, hardly any maintenance needs to be done due to their hard-wearing and easy-to-clean nature. On top of that, our shutters can be made to fit into any shaped or sized window, unlike curtains and blinds!
Let us not forget that while shutters are looked on by many to be a luxury product and thought to have a price tag to match. However, at Just Shutters, we pride ourselves on pricing our servcies and products fairly. You will not have to pay through the nose! They offer excellent value for money because they are long-lasting and can boost the value of your home. Unlike other companies in the area, we offer a lifetime guarantee with our shutters, so while you own the shutters we will support you with them.
Just Shutters are the best
A bold statement we know, but as the most reviewed shutter company in the area with an impressive score of 9.9 on Checkatrade, you don't just have to take our word for it!  We strive to ensure that every customer brought into the Just Shutters fold, is treated with care and attention and given excellent customer service from beginning to end.
All our staff are experts in the field of Dorchester Plantation Shutters. As a company we specialise in window shutters, not as an add on to other products but as our speciality and passion.  Every window we design and every shutter we fit is a long term investment in your home, and our long term investment in our business and reputation. So, from a smiling greeting in our showroom or on the telephone to removing our shoes when we come to fit in your home, we will make sure those little details will leave a great feeling when you think of your experience with our company.
We would love to have a one-on-one chat with you, so give us a call on 01305 230321 and answer any questions you may have. Alternatively please follow the links below and enjoy seeing what we can do for your home.
Customer testimonials:
Customer satisfaction is a core value here at Just Shutters. Therefore, we are immensely proud of the 9.9/10 rating we have been awarded on consumer rating site Checkatrade. We earned this rating because of 1800+ independent reviews. Reviews such as:
"Very efficient and professional – 1st class so as a result would recommend."
"First class service. Therefore, would not hesitate to recommend."
"Just Shutters fitted 11 sets of shutters in 7 rooms. They were reliable, neat, overall excellent attention to detail."