Frome Plantations Shutters 
Frome Plantation Shutters from Just Shutters. With its rich heritage, unique charm and a tapestry of architecture from across the ages, Frome is a perfect town in which to live and work. Our local shutter expert Rob Cole (pictured right) brings you the personal care and service that comes with being local, with the high quality, value and lifetime guarantee of the Just Shutters brand. Call us on 01225 302599 for further information.
What are Plantation Shutters and why are they for me?
Whether you live in a quintessentially English town centre townhouse, a country retreat, or modern marvel, Just Shutters have designed and installed over 7000 customers homes and businesses both modern and traditional. With our experience and largest range in the UK we can guarantee to match your home, your style and your expectations.
So whether you have a lounge bay window, an unusual shaped atrium, a perfect porthole or large conservatory, we have the experience and passion to get it Just right for you – no job is too big or too small.
Find out more about striking plantation shutters on our 'what are plantation shutters?' page.
Are shutters good value for money?
Shutters can been seen as a luxury product, mainly due to being seen in high-end design magazines, interior designer showrooms and boutique hotels. However, shutters actually provide excellent long-term value.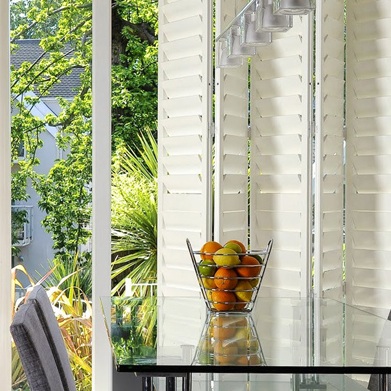 It can seem like curtains or blinds offer a 'value' option, but after years of wear and tear nothing stands the test of time like beautiful plantation shutters. Our lifetime guarantee means that year after year you can be confident in the quality of your shutters. Long after fabrics would bleach, or blinds could warp, shutters will be providing you with value and peace of mind.
Do shutters block the view?
No, our customers feed back to us their delight in being able to maintain the feature, light, view and use of their windows or doors, while being private and secure. Please take a look at our shutter galleries these will give you an idea of the way our stunning shutters enhance a window.
Is there a range of styles and finishing options?
Yes, we offer the widest range of style and finishing options in the UK. The possibilities are endless; not only do we have a range of materials, we have many louvre size options, and can even colour match to make sure our shutters suit you and your home perfectly.
Why Just Shutters?
Just Shutters have an outstanding reputation, we would be delighted to show you exactly how we have earned this. You can request a brochure for further inspiration, arrange a free design consultation in the comfort of your own home, or call us on: 01225 302599.
What customers are saying about Just Shutters:
Shutter fitted to bay windows.
"Fantastic customer service. Excellent product. Great installation. Left clean and tidy."
Shutters in dining room.
"Gene was very helpful and clearly explained the different options available. The shutters were installed on time and in a tidy and professional manner."
Louvre shutters fitted to window.
"Third time we've used Just Shutters – ultra efficient, professional and friendly. Do not hesitate to recommend!"
You may also like to see: Shutters Gloucestershire, Shutters Bath, Shutters Bradford on Avon, Shutters Trowbridge, Shutters Wells or Shutters Chippenham.