Frome Plantations Shutters 
Frome Plantation Shutters is an extension of Just Shutters. With so much history and beautiful quaint streets, Frome is a wonderful town in which to reside. Our shutter expert Rob Cole (pictured right) offers a personal one-to-one service, building friendly relationships with our customers while offering them first-class products. To find out what we can do for you, give us a call on 01225 302599.
Why do you need plantation shutters?
Whether you live in a quintessentially English town centre townhouse, a country retreat, or modern marvel, Just Shutters have worked in more than 7000 homes and commercial properties, all of which are built in an array of styles. We aim to exceed your expectations by manufacturing products that match your style and the design of your property.
So whether you have a large bay window in your lounge, an obscurely shaped atrium, a perfect porthole or large conservatory, we have the perfect option that will fit the specific measurements – no job is too big or too small.
You can learn more about plantation shutters by accessing our 'what are plantation shutters?' page.
Are shutters good value for money?
Many regard shutters as luxury products, but they do not only belong in elite design magazines or interior design showrooms. They can also be added to modest homes at an affordable price if you choose Just Shutters.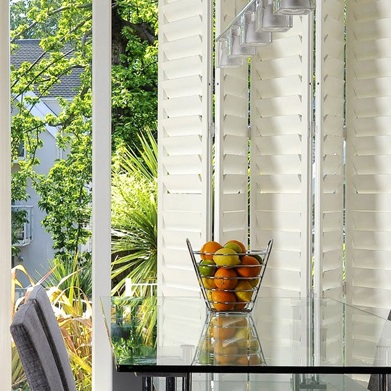 It can seem like curtains and blinds are your only realistic option, but they suffer from wear and tear; shutters do not. Also, our lifetime guarantee means that you can trust us when we tell you that our plantation shutters are in it for the long haul! Curtains can suffer from stains, while blinds often get tangled, but there is no danger of that with shutters.
Do shutters block the view?
No, our customers feed back to us their delight in being able to maintain the feature, light, view and use of their windows or doors, while being private and secure. Please take a look at our shutter galleries these will give you an idea of the way our stunning shutters enhance a window.
How many styles and finishes can I choose from?
There are an endless amount! In fact we have the widest selection of options in the entire country. From materials to louvre options, there is so much to consider. With our help, we can produce the perfect shutters to suit you and your home.
Why are Just Shutters the best?
Just Shutters have an outstanding reputation, we would be delighted to show you exactly how we have earned this. If you need some inspiration, don't hesitate to request our brochure. Or, you could book a design visit by giving us a call on 01225 302599.
What customers are saying about us:
Shutter fitted to bay windows.
"Fantastic customer service. Excellent product. Great installation. Left clean and tidy."
Shutters in dining room.
"Gene was very helpful and clearly explained the different options available. The shutters were installed on time and in a tidy and professional manner."
Louvre shutters fitted to window.
"Third time we've used Just Shutters – ultra efficient, professional and friendly. Do not hesitate to recommend!"
You may also like to see: Shutters Gloucestershire, Shutters Bath, Shutters Bradford on Avon, Shutters Trowbridge, Shutters Wells or Shutters Chippenham.