See Just Shutters featured in 'Talkabout' titles!
The lovely people at Talkabout Publishing have done a wonderful feature on Just Shutters this month in all their North Wales and Cheshire Publications. The feature focuses on the advice given to the magazines by Just Shutters North Wales, Wirral and Cheshire husband and wife team Ken and Angela Eardley. Who advise readers on how to achieve the perfect 'shutter look' in your home. You can read the full feature below.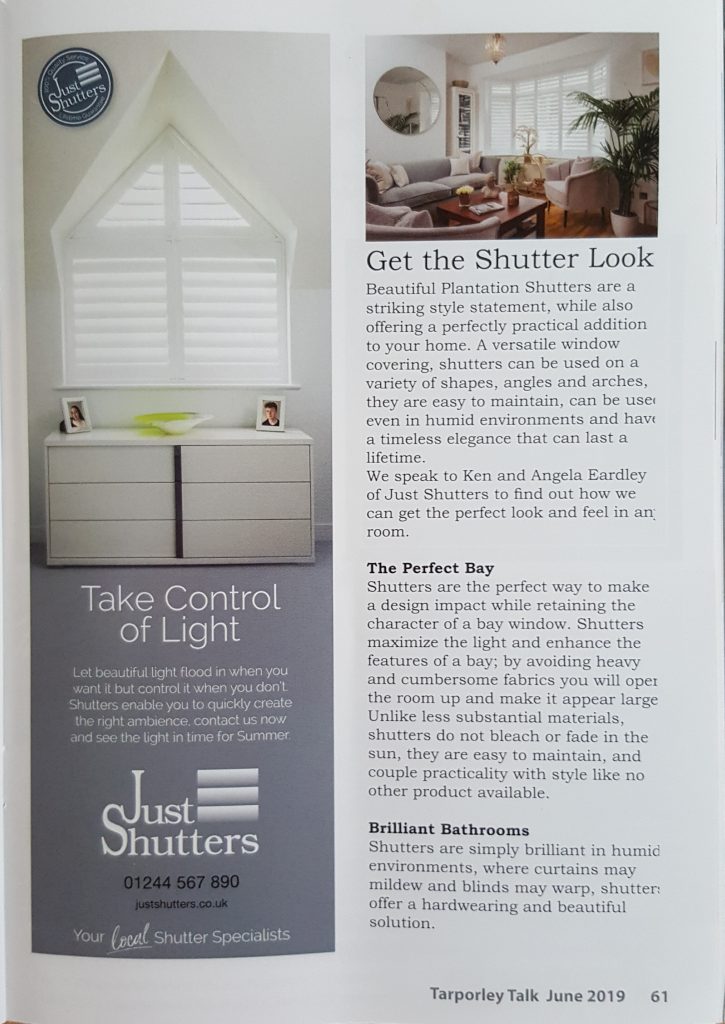 Get the Shutter Look
Beautiful Plantation Shutters are a striking style statement, while also offering a perfectly practical addition to your home. A versatile window covering, shutters can be used on a variety on shapes, angles and arches, they are easy to maintain, can be used even in humid environments and have a timeless elegance that can last a lifetime.
We speak to Ken and Angela Eardley of Just Shutters to find out how we can get the perfect look and feel in any room.
The Perfect Bay
Shutters are the perfect way to make a design impact while retaining the character of a bay window. Shutters maximise the light and enhance the features of a bay; by avoiding heavy and cumbersome fabrics you will open the room up and make it appear larger. Unlike less substantial materials, shutters do not bleach or fade in the sun, they are easy to maintain, and couple practicality with style like no other product available.
Brilliant Bathrooms
Shutters are simply brilliant in humid environments, where curtains may mildew and blinds may warp, shutters offer a hardwearing and beautiful solution.
These are just some examples of how beautiful Plantation Shutters can give your home a makeover, for more inspirational hints, tips and a gallery full of stunning images to capture your imagination, please call us on 0345 894 0700 and we will be delighted to help you further.