Half Window Shutters UK – Also known as café style shutters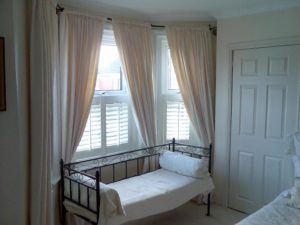 Just Shutters are the leading experts for half window shutters UK. Also known as café style, these shutters cover only the bottom half of your window. As a result, these stunning shutters allow complete privacy and offer maximum light to flood through simultaneously – all whilst being a striking design feature.
The benefits of half window shutters
These shutters possess all the benefits that our full height shutters do, with a full added bonuses as a result of their unique size. For example:
-Half window shutters are perfect for bathrooms. This is as a result of the positioning of the shutters, usually covering you below the neck.
-Privacy is ensured by this shutter type. Therefore, you can rest assured your interiors are safe from prying eyes.
-Half window shutters allow in more light. As a result, your interiors will feel brighter and larger.
-A striking design is sure to make an impression!
Furthermore, there are various other benefits that are universal to our shutters. Naturally they are stunning features for any home, but there is far more than meets the eye with shutters. In fact, shutters are both practical and versatile! There are several unique features which account for this fantastic versatility and practicality. Features such as:
-Complete child safety. As a result, shutters are a perfect option for busy family homes.
-Shutters are entirely bespoke and made to measure. Therefore, you can rest assured knowing your shutters will suit your home perfectly whilst remaining unique!
-Security is enhanced by fitting shutters.
Furthermore, we are so confident in the quality and durability of our shutters that we offer a lifetime guarantee!
Browse our café style shutter galleries to get inspired!
Contact Just Shutters
Contact the dedicated Just Shutters team on 0345 894 0700. Alternatively, you can use the buttons towards the top of this page or click here to find your local shutter expert.
Our teams strive to ensure customer service excellence is carried across every single customer we contact. We are pleased to have been granted a fantastic 9.9/10 rating on Checkatrade. We truly are a name you can trust!