Hampshire franchisee becomes part of the family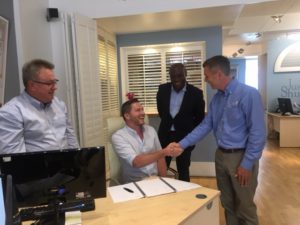 Rob Wardle signs franchise contract as we celebrate adding Just Shutters Hampshire to our franchise network.
We are delighted that Rob Wardle of Southampton has joined the Just Shutters family. Furthermore, extending our reach in the Hampshire area; giving Just Shutters complete and uninterrupted coverage of the Southernmost counties, including the Isle of Wight.
Rob has an extensive portfolio having gained plenty of experience in the development and interior design of properties. He tells us; 'I am so very excited about my new venture. It encapsulates so many of my passions; my love of design and hands on creativity, and additionally my passion for working with people to improve their home environment."
The perfect man for Just Shutters Hampshire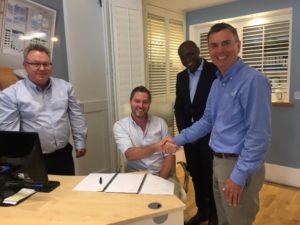 Rob is also well versed in psychology and social work, and he has lent his expertise to his work with Just Shutters. He said: "The finishing touches in someone's home really can have a big impact on their mood and sense of overall wellbeing.' He so looks forward to; 'giving them an atmosphere and sense of calm in their homes.' He says; 'I love creating environments that you can walk in to and it will make you smile.'
Simon Osterloh, Managing Director of Just Shutters tells us; 'Rob has all the qualities of a great franchisee; he has hands on experience of design and development of properties, and furthermore, he has great enthusiasm for shutters. He also has a passion for giving the right creative advice to customers to create the perfect solutions for them. A winning combination all round!'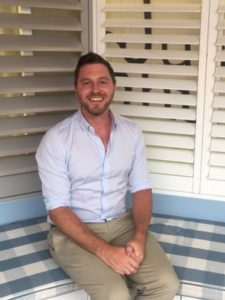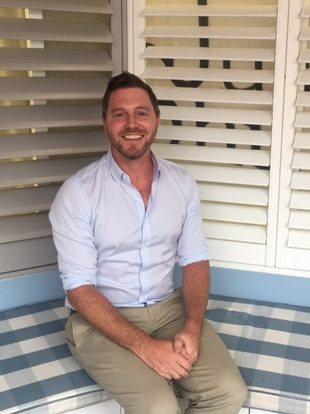 Training his way to the top
Rob has already enjoyed the last few weeks training with the Just Shutters Master Fitters, Sales Designers and Head Office team and is looking forward to going on his first appointments booked in for the end of August.
All that's left to do is give Rob a big Just Shutters CONGRATULATIONS and welcome aboard!
If you would like an appointment with Rob (or any of our other fabulous team) please reach out to us on 0345 894 0700, or request a brochure or appointment below.