Heavenly Hallways – Interior Tips From Georgina Broadhurst of Just Shutters Surrey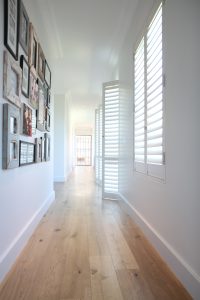 Heavenly Hallways was originally published in Walton Matters
Homeowners often focus energy on key rooms such as the kitchen, living room and master bedroom, but lately I have noticed that the hall is coming into its own.
There is an array of ways to beautify this hard-working, utilitarian space and to not only design a practical entrance to your home but also to deliver striking good looks.
Focus on Flooring
First of all flooring. Parquet in a Herringbone pattern is growing in popularity and the variety of materials available from engineered hardwood to laminate, mean the look can suit all budgets.
Another option having a resurgence is patterned tiles. Whether it is Victorian, geometric, floral or Moroccan, choosing highly pattered tiles will grab your guests' attention immediately.
Colours that warm the soul
There seems to be a colour pallet slowly spreading across the halls of Surrey. Blue in every shade, but especially the darker hues such as Hague Blue or Stiffkey Blue from Farrow and Ball. Or the eponymous Grey, which seems to have an enduring place in the hearts of Surrey homeowners.
Clever storage is a must
Clever storage is a total game changer. Under-stairs cupboards and drawers that make use of every single spare centimetre or bespoke cabinetry with seating, shelving, coat pegs and shoe racks. Think about your day to day needs and design something that will deliver solutions with style.
Add what you love…
Lastly don't forget to add something you love to the hall. A favourite artwork, a comfortable chair, a feature wall in that shade of Primrose Yellow that makes your heart sing, or a swathe of family photos. It doesn't matter what it is, but this way, whenever you leave or arrive home, your eyes will rest upon something that brings you joy.
Find out more about Just Shutters Surrey here or call 0345 894 0700 to see how our gorgeous shutters can help transform your hallway – or any other room!