The cost of shutters
'How much do plantation shutters cost?' or 'are shutters expensive?' are frequently asked questions by our customers. However, it may surprise you to know that shutters may not be as expensive as one might think.
It is not surprising that so many people believe that shutters are expensive as they appear in chic boutique hotels and grace the inside of classy interior decoration publications. As a result of this luxury status, shutters enhance and compliment any interior – adding a timeless stylish feel to your home. Browse our photo galleries to see why our shutters are such a great option for any property.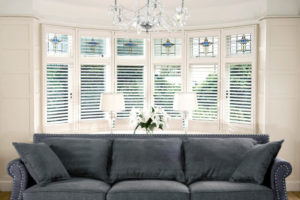 Influences on the price of shutters
The first of your shutters will naturally vary dependant on a variety of factors. Firstly, the price of shutters will be dependent on the size of your window. When taking measurements, we will calculate the square footage of your window in meters. Generally, our shutters start from £310 per square metre (fully designed, installed and with lifetime guarantee) dependant on several other factors.
Secondly, the price of shutters will be influenced by the material that they are made from. For instance, shutters manufactured using Craftwood will cost less than Lindenwood. Before considering the cost of materials as your deciding factor behind your shutter choice, take into account that each material will have a different finish and feel. For example:
–Craftwood – £310 per square metre – A high quality counted MDF available in 5 colours
–Pearlwood – £450 per square metre – A luxurious yet lightweight hardwood which comes in the colour/finish of your choice.
–Lindenwood – £490 per square metre – A real wood material giving you the very best in luxury and craftmanship. Lindenwood is available in 51 standard paints and stains. Furthermore, the material is incredibly well suited to use in irregular shaped windows.
–Portchester interior security shutters – contact us to discuss the cost of our newest range. Durable aluminium shutters that combine the highest level of security with stylish looks.
To explore our range of materials further, click here.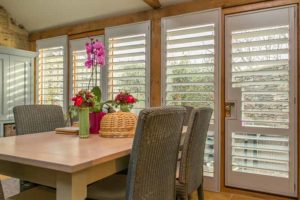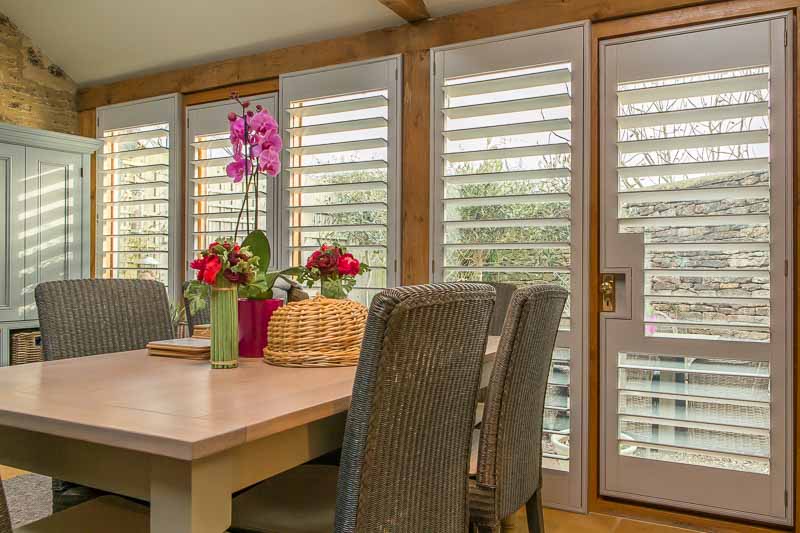 Whilst the above are the main factors in the pricing of shutters, there are several other factors to consider. For example, some shutters can be painted in bespoke paints from Dulux or Farrow & Ball upon request for a small charge.
Tilt rods can be on display or hidden at a small additional cost. Please use our price calculator for full details.
Contact Just Shutters
Please do feel free to contact the experts at Just Shutters. Call the team on 0345 894 0700 or submit your details on the contact request form. Alternatively, you request a design visit or a brochure by clicking the links below.
Customer reviews
Customer satisfaction is definitely something that we strive for as is evident in the fantastic comments left for us by customers on Checkatrade. Check out some of these positive remarks below:
"Fantastic salesman, very professional and the fitting of the shutters are perfect." 10/10
"I had plantation shutters fitted to my two bedrooms-absolutely thrilled-so much so I will be having Just Shutters back to fit more in my lounge. Very professional, good communication and clean and efficient." 10/10
"From arrival to price to installation ,everything was faultless." 10/10