How to clean shutter blinds – it's easy!
Plantation shutters require very little maintenance. With a premium coating that does not attract dust or allergens like many untreated woods or fabrics, shutters are a great choice for your home.  However like most items in your home, it is advised to give them a quick clean to get rid of any surface dirt or dust. Customers regularly ask us how to clean shutter blinds, therefore we have put together simple walkthrough of how to keep your stunning shutters clean and tidy.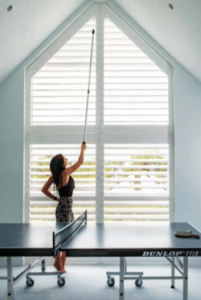 Regular cleaning
We understand that your home is your castle, and as such it will no doubt be kept in pristine condition. Therefore, regular cleaning, with a quick dusting of your shutters is a must – the ways in which this can be done are very simple and easy to fit into a cleaning routine.
Using a duster
Regular cleaning of your shutters can be carried out with the use of a feather duster or a dry cloth. We at Just Shutters prefer an ostrich feather duster. Simply run the duster along each louver, ensuring dust has been removed from the top and bottom of each – it's as simple as that!
Using a vacuum
A vacuum should not be used as an alternative to using a duster as suggested on some websites. While shutters are extremely durable, the heaviness of a vacuum makes it a cumbersome job and could scrape the surface of your shutters. We would always suggest using a softer more natural form of dusting such as a feather duster mentioned above.
Removing stains or dirt
How to clean shutter blinds with stubborn stains or dirt is a question that we have been asked from time to time. Stains are incredibly rare on shutters due to the wipe-clean coating, however it is advised if staining products such as red wine were to spill onto your shutters, wipe the excess up as soon as possible and clean the shutter thoroughly. It is advised that you avoid using astringents. Routine cleaning should be enough to avoid stains from occurring. A lightly dampened cloth is usually all that is needed to remove most common dirt or finger marks.
Other benefits of shutters
From the above, it is evident that shutters are easy to clean and require little upkeep. However, the practical benefits of shutters don't end with the ease of cleaning; there are many other benefits, for example:
-Shutters enhance the privacy and security standard of your home
-Shutters posses insulating properties and as a result utility bills may be reduced.
-Plantation shutters give the unique ability to control the ambience of a room
-There is no need to worry about child safety, shutters are entirely child safe
-Shutters are incredibly durable
Furthermore, we are so confident in the practicality benefits of shutters, as well as thee longevity of our product, that we offer a lifetime guarantee!
Contact Just Shutters
If you have any questions for our team, or to discuss fitting shutters, please get in touch. Our team strive to ensure that the service each customer receives  is fully satisfactory. Therefore we are extremely proud of the 9.9/10 rating we have achieved on Checkatrade. This rating comes as a result of 1700+ reviews, to see them click here. Call our team today on 01202 240769, or alternatively use the buttons below.