Interior Shutters for Large Window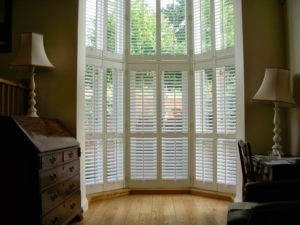 Large windows can pose a challenge when it comes to furnishing your home. You may wish to have a window covering, but also want to make the most out of the light that a large window floods into your interiors. Therefore, installing a interior shutters for large window is a great option!
The Benefits of Installing Shutters in a large window
Whereas curtains may hold allergens such as dust, and blinds are prone to tangling, shutters are con free – especially in large windows!
Shutters are easy to clean, require next to no maintenance and are easy to operate. Therefore, the stylish window coverings are ideal for larger windows.
Furthermore, larger windows tend to be irregular shapes. This may include things shapes such as triangles and port holes. The made to measure aspect of shutters makes them ideally suited for irregular shape windows – see examples of these here.
Contact Just Shutters
Contact the team of shutter experts here at Just Shutters on 0345 894 0700 to discuss how shutters could work for you! Alternatively, use the buttons below to download a brochure or book a home design visit.
You can also find the contact details for your local shutter expert by clicking here.