Just Shutters billboards looking splendid
Just Shutters has become a hugely successful national company, boasting 16 successful franchises across the UK. Our success has come as a result of the hard work put in by all our teams across the network. However with everything going on nationwide, it's always exciting when we have news from our hometown.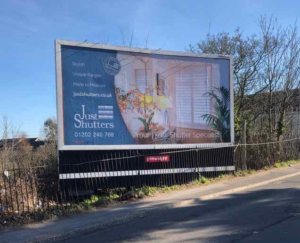 Near Just Shutters home of sunny Southbourne, Bournemouth, lies our stunning new billboards as seen in the photo (right). Nestled in the heart of Christchurch, this billboard, which recently displayed our lovely Winter Sale Advert, can be seen by passers by. This eye catching advert is seen daily by work commuters, parents with children as well as a much large and diverse audience. We also have another billboard on Ashley Road in Poole which is also a prime location for passers by.
This unique billboard advertises Just Shutters, your local shutter specialists, to thousands of people and gives a strong visual presence. Following the previous success of our billboard campaign last year, we are thrilled to see our billboards up and already being viewed.
We have a wide range of Just Shutters products to suit your home and work space. Contact us today.