Just Shutters Fly Screens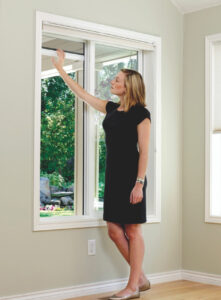 Fly screens by Just Shutters are an essential addition to any home or business, particularly during the summer months. Our high-quality fly screens are made of a fine mesh which has very low visibility compared to other meshes on the market, so you will hardly notice they are there. When you don't need the protection of your fly screen, it discreetly rolls up and away behind your shutters. Frames are available in white and dark brown to blend seamlessly with your windows.
They come with abundant benefits, the most obvious being that they keep out pesky insects, reducing the risk of bites and irritants. Just Shutters Fly Screens also help you to:
GET A BETTER NIGHTS SLEEP
You can sleep with your window open, in the safe knowledge that your fly screen is protecting your health and wellbeing. Designed to be comfortable and breathable, you'll get a better night's sleep without feeling hot or stuffy.
REDUCE ENERGY COSTS
Our fly screens reduce energy costs by allowing natural ventilation, reducing the need for air conditioning.
Overall, they offer a practical and effective solution for anyone wanting to improve the comfort and safety of their home or business.
Contact us today to find out more on 0345 894 0700.; our friendly team are on hand to answer any questions you may have.
See What Our Customers Have To Say
"I have used Just Shutters in the past for shutter installations (always a great service), but I recently became aware that they also now supply and fit a new fly screen product. This has now been installed, and I am delighted with the results. The screens are robust and yet not an eyesore, which is a difficult combination to achieve. An excellent product".
Mr Godden, Fordingbridge
"I love my new fly screens; they are so inconspicuous. I'm looking forward to having my windows wide open in the coming months, letting the fresh air in but not the buzzing flying insects. Thank you, Just Shutters, for an excellent installation, and the screens look great too!"
Ms Abbey, New Milton