Keynsham WINDOW SHUTTERS 
Keynsham shutters by our established company Just Shutters. We combine quality, service and value with our market leading lifetime guarantee for true peace of mind. Call us now on 0117 370 1594 or alternatively you can download our inspirational brochure, or book a home design visit by following the buttons below.
At Just Shutters, we are knowledgable when it comes to designing, creating and fitting the best quality shutters in the world. With the widest range of plantation shutter styles and finishes in the UK (including some exclusive ranges), you can be assured that whether you have a yearning for bold and beautiful or a fancy for sleek timeless elegance; we have vast experience as well as the designer touch to enhance your home with our shutters.
WHY PLANTATION SHUTTERS?
Our shutters are both practical and beautiful; with shutters, the beauty extends to more than just the outer layer.
On top of the beautiful elegant design statement, great looks and ambience shutters bring to a room, the additional benefits of shutters make them a perfect lifestyle product you will enjoy living with every day.
Shutters offer unrivalled light control, while providing privacy as well as the view outside. Furthermore, shutters are very low maintenance and hard wearing, just a whip of a feather duster!
Shutters are also: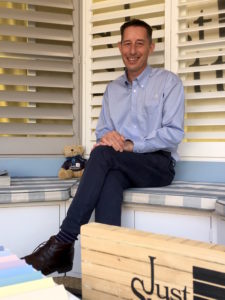 – Child safe
– Great for humid or damp environments of kitchens or bathrooms
– Energy efficient
– They can reduce dust, mites, allergens, moulds and mildews
– Great for providing extra security
– Increases the price of your home
– Lifetime guaranteed!
JUST SHUTTERS – the home of Keynsham window shutters
Our service and customer care is equally as important as our expertise and great products. With family roots remaining, the importance of the local community remains at our core.
Shutters are our true passion and focus. We have carried out our services on many properties, both new and old; from listed buildings and stately homes to apartments, hotels and schools. So, we truly know what every customer wants and needs for their homes.
Call us on 0117 370 1594 to know why we are your best choice in the industry. You can also select the buttons below to find alternative ways to contact us.
FIND OUT MORE FROM OUR CUSTOMERS:
Our customers are best placed to tell you about us. We have more than 1800 independent reviews and a 9.9/10 score on checkatrade. Here are just some of the things our customers have to say:
"Perfect service. Shutters installed in our two bedrooms so well. No mess. I ordered more as they were so good!"
"Excellent service, fitters very friendly and efficient."
"Excellent product, beautifully fitted, look brilliant."
"The service provided could not be faulted in any way at all."
"The six shutters I had fitted are lovely! Very well fitted by were neat, tidy and polite fitted."