Create the right look for your bedroom, a space where you can feel completely relaxed and truly at home. Choose a design style that reflects you, where practical elements and personality merge seamlessly to create your very own inner sanctum.
Shutters add privacy and allow beautiful ambient light into your bedroom, and for these reasons, they are considered integral in a range of interior design styles. Whether your style is pared down minimalism, a dramatic colour-led statement or a natural textured retreat, we have some tips to creating the right look for you.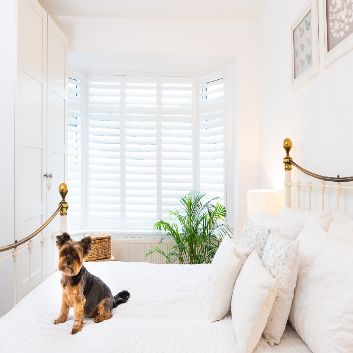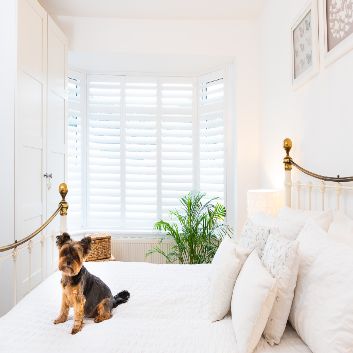 White Night
Crisp white walls paired with white furnishings create a clean and uncluttered space even in smaller rooms. Our 'pure white' shutters merge into the space seamlessly. Make the room feel comfortable by adding elements such as sequine embellished cushions,  pictures and greenery which instantly breaks up the white making the room instantly feel warmer and more welcoming.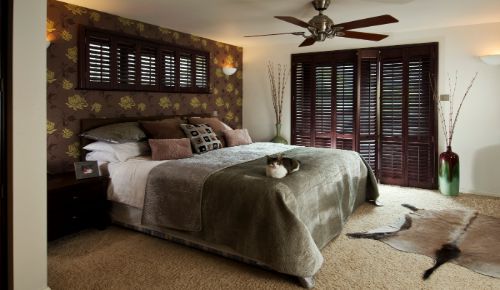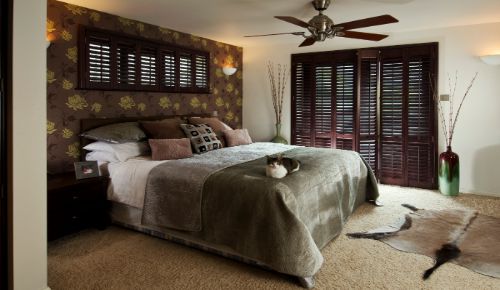 Velvet Heaven
Soft furnishings are a great way of creating a new look in your bedroom. For an opulent and romantic look, try adding velvet cushions and throws.  Combine with a strong patterned wallpapered feature wall and mahogany shutters for a chic colonial look.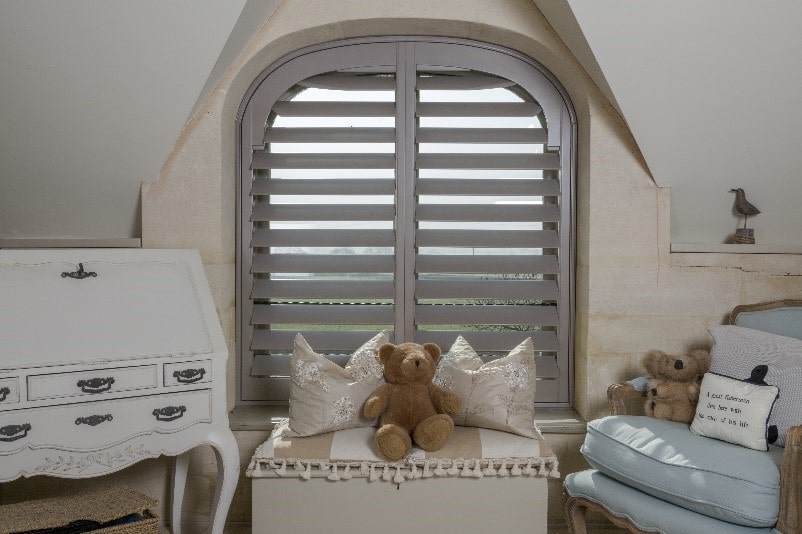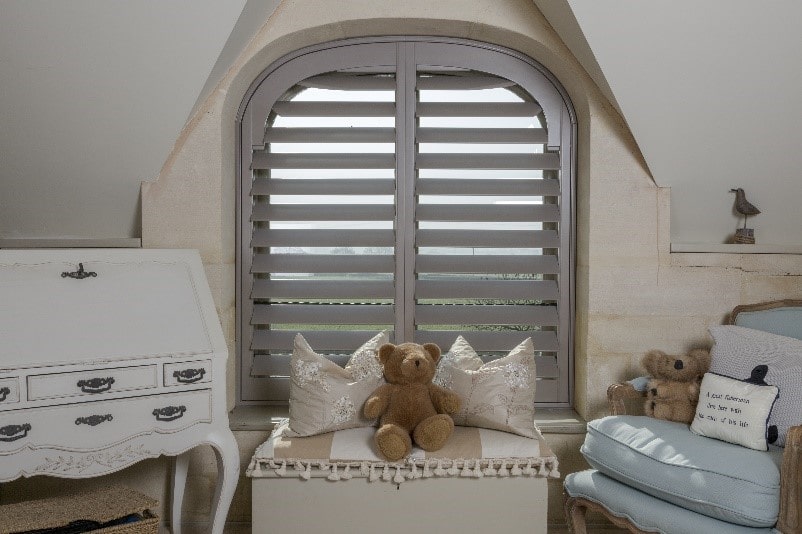 Memory Lane
Muted shades on the walls mixed with shabby chic furniture, complemented by soft colour fabrics create an idyllic nod to the past. 'Sea mist' shutters from our exclusive Coastal Range create a cosy and stylish finish.
My Bear Shop has beautiful traditional teddy bears to add the finishing touch!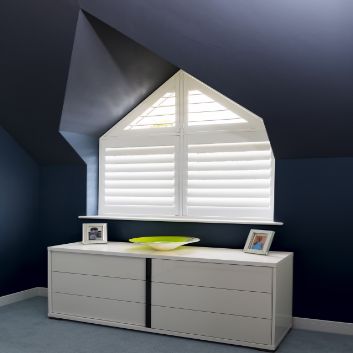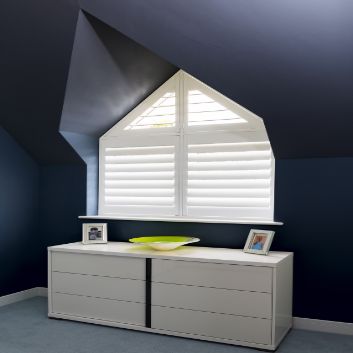 Bold Blues
Stunning dark blue walls contrast beautifully with white furniture and our 'pure white' shutters. Selecting a bright accent colour such as lime green or vibrant pink gives the space a modern feel. Artwork and a shapely mirror add interest to a large expanse of wall.
Dulux and Farrow and Ball have stunning bold blue paints – be sure to buy a tester first to make sure you select the perfect shade for your home.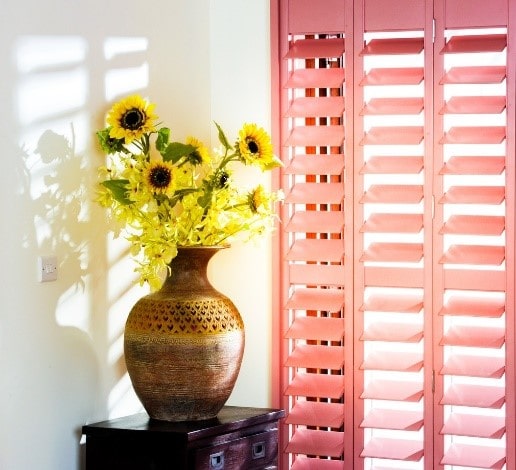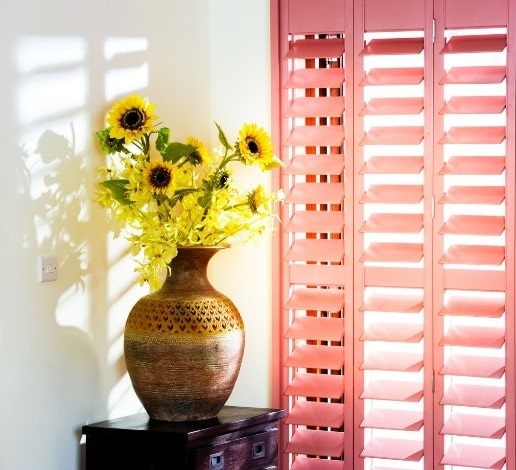 Splash the colour
Colour shutters in your bedroom add a real 'wow' to your inner sanctum. Keep the walls plain as contrast and select a shade you love, the more vibrant, the better! We can colour match any shade for you, then mirror that colour in your bedding and knick-knacks. Cut flowers in a contrasting colour by your window draws the eye and creates a beautiful effect.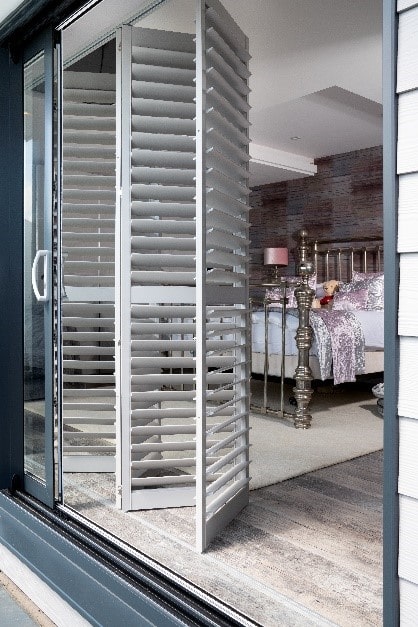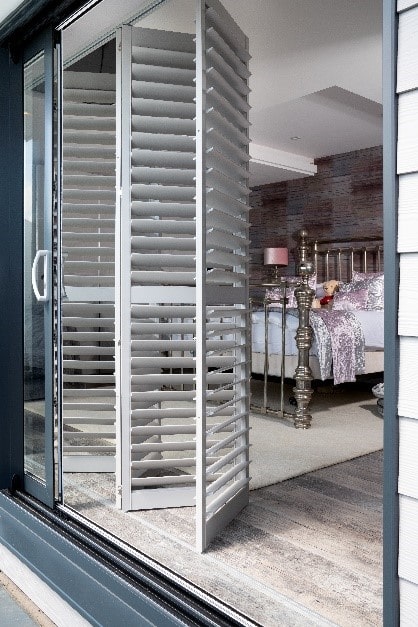 A Natural Contrast
Make a fresh, contemporary look by using a wood effect feature wall. Combine with wood flooring, a classic brass bedstead and silken bed linen to create a truly sumptuous effect.
Nature Wall has a great selection of wooden wall styles to choose from.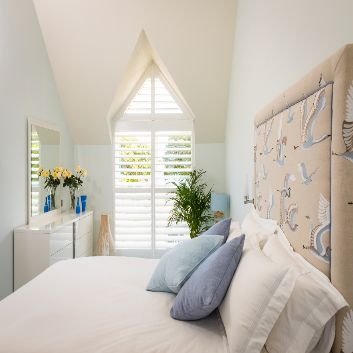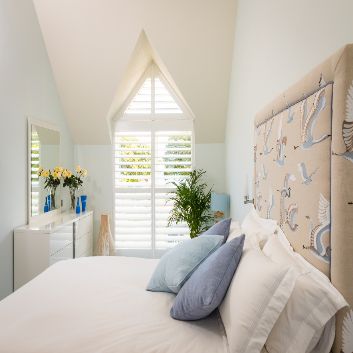 Pastel Perfection
Select three or four pastel colours to combine throughout. By using softer shades on the walls, you'll keep the bedroom light and airy. Customise your headboard and add scatter-cushions to finish off the look.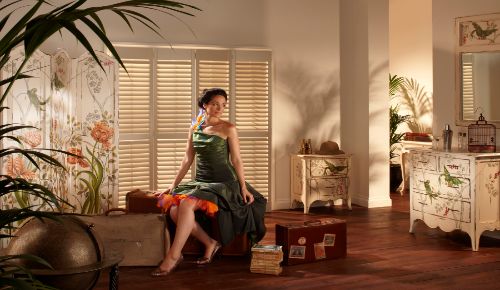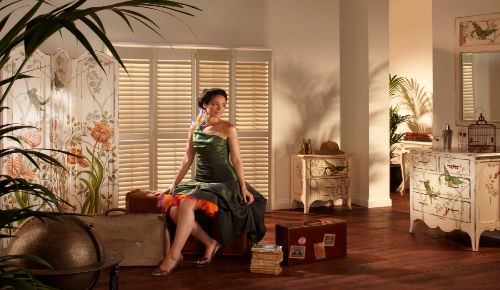 Tropical Paradise
Create a verdant sanctuary with plenty of foliage and our 'colonial' wooden shutters. Use a warm cream colour on the walls and customise your furniture with tropical designs – Murals Wallpaper has a diverse selection of tropical wallpapers.
(Image by Peter Green)
Book an appointment with a designer and discover how we can transform your space…
Our talented designers are waiting to discuss your project.