Security Shutters with Style by Just Shutters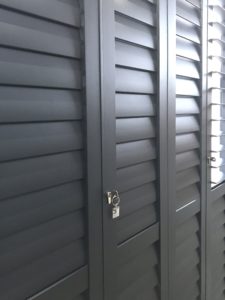 Do you want shutters that combine the highest standards of security and stunning looks? Our security shutters could your solution!
These shutters make for a beautiful alternative to traditional security grills, bars or roller shutters. Therefore, you are equipping your home with an excellent security feature without the associated industrial style.
What is different about Security Shutters?
The material they are made from is the main distinction between traditional and security shutters. Traditional shutters are typically made from wood or a high-quality coated MDF, whereas rust-free aluminium is used to make our security shutters.
Furthermore, a patented key lock mechanism is part of the design. Therefore, giving you the protection of burglar bars or steel rollers but without the intrusiveness.
Benefits of Security Shutters
Our line possesses a truly extensive array of benefits. These range from the main security benefits to the practical and aesthetic points one would expect of a Just Shutters product. Benefits such as: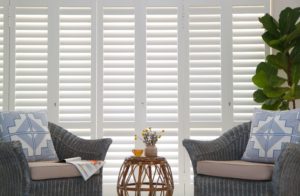 -Stylishly Secure: these interior security shutters combine strength with elegance!
-Durability: Our range is inspired by the security needs of homes in South Africa. Therefore, they're designed to be the most durable and strong shutters available on the market
-Peace of mind: The patented lock system means that you can rest assured your home is safe
-Privacy: Keep prying eyes out of your home whilst also keeping your home's curb appeal
-Ambiance: Control the level of light that comes into your home. As a result, you can create the perfect ambience for any occasion
Get in touch to find out how we can help protect, secure and enhance the beauty of your home. Contact our dedicated team of experts on 0345 894 0700.