PearlWood
PearlWood is a beautiful option that is made from hardwood which is known for being incredibly lightweight. PearlWood is available in a range of quality finishes and wood stains that further enhance the luxury feel of this outstanding option. So, PearlWood can complement the rest of your room – whatever your style!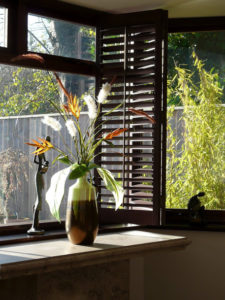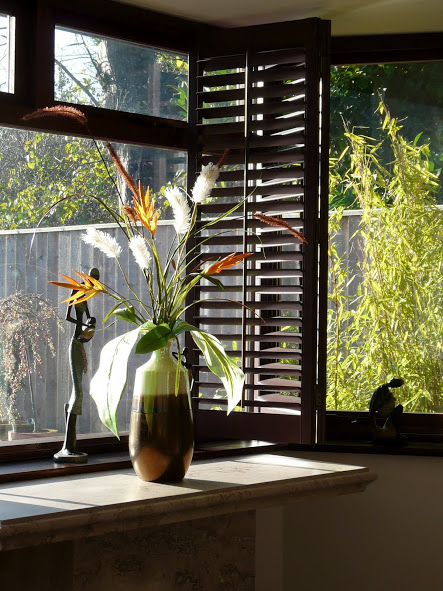 Appearance
PearlWood has many benefits. It is the perfect material of choice for large shutters, for covering large expanses, or for high windows, due to its incredible light weight. Another fantastic benefit of PearlWood is its ability to keep homes warm in the winter and cool in the summer.
PearlWood comes from the extremely fast growing Paulownia tree. The tree is also known as the 'phoenix tree' due to its ability to regenerate from nothing but a root once harvested. Because the tree is so fast growing (up to 20ft in one year) it is astonishingly knot free, giving it a uniform finish, perfect for shutters.
During the manufacturing process the wood is sanded and finished in your choice of paint or stain, giving the beautiful solid wood look and feel in your choice of colour.
PearlWood is incredibly easy to take care of. All that's need is a damp cloth or feather duster and five minutes of your time.
Price
PearlWood shutters cost £480 per square metre. Everything, from survey to installation and even the VAT is included in this fantastic price. Plus, as we're so confident that you'll simply love your new shutters, we're pleased to guarantee your shutters for life so long as you remain the owner of the property.
PearlWood shutters come in a very large variety of stains and painted finishes, you can choose from our popular stains and colours, or custom match any Farrow and Ball or Dulux paint option. Whatever your style, Just Shutters will ensure your shutters match it perfectly, please discuss your requirements with the designer at your free consultation. If you would like to see for yourself how this stacks up to the size of your window, our online shutter price calculator can help. And, of course, we're only ever a phone call away, dial 0345 894 0700 for a quotation.
Contact
To find out more about PearlWood, give us a call on 0345 894 0700.