NEW MALDEN PLANTATION SHUTTERS
Just Shutters are proud to provide stunning New Malden Plantation shutters, coupled with our expert reputation and superior customer service. Just Call 01932 500 270 or book an appointment online.
Local husband and wife team Georgina and Simon Broadhurst are your local shutter experts. They bring their passion for design and also detail to homes of New Malden.
New Malden was established entirely as a result of the arrival of the railway in 1846 courtesy of the Industrial revolution and Queen Victoria herself visited on more than one occasion. More recently New Malden became a suburb of the Royal Borough of Kingston upon Thames in 1965. The area boasts some impressive homes! And whatever the age and style of your property, we have the expertise to create your perfect solution. 
We have many happy customers in New Malden and demand for our beautiful luxurious solid wood shutters have never been higher. From blackout lined shutters in nurseries and children's bedrooms, to tier-on-tier custom painted hardwood shutters in living rooms, we have installed them all.
Did you know there are five times more houses than flats for sale in New Malden? We find the discerning families of the area crave our premium products and unrivalled customer service. But, of course it goes without saying that our shutters find their rightful place in any type of home!
WHY CHOOSE PLANTATION SHUTTERS?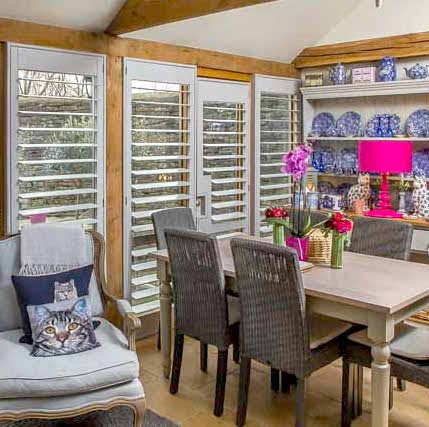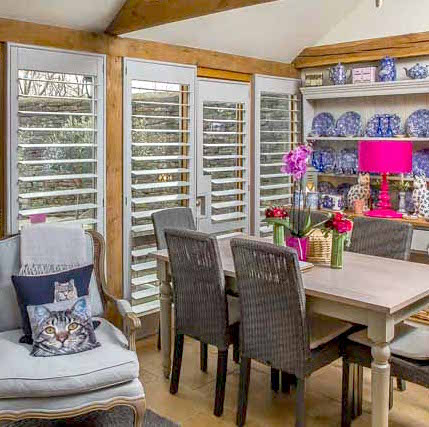 It's not hard to see why shutters are the fastest-growing niche in the window coverings industry. Especially when you consider the myriad of benefits they offer:
 – Style & Aesthetic; when you look at our galleries you will be struck by how stylish and stunning our shutters are, adding a touch of class to any room in your home
 – Privacy; if you live in a busy road, over looked property or in an urban environment you may benefit from shutters, simply angle the louvers so that passers-by can't see in
 – Energy efficiency; an extra layer to help keep your home warm in Winter and cool in Summer with proven energy efficiency benefits
 – Noise reduction; useful in our towns and cities and also if you live in an older property or on a busy road
 – Low maintenance; we offer after care advice and if followed your new shutters should be maintenance free for many years to come
 – Lifetime guarantee; we offer a market leading lifetime guarantee which can't be beaten
 – Increased security; if you go away completely close your shutters for real security
 – Flexibility and adaptability; shutters are suitable to almost every door or window including shaped, arched, angled and round styles plus glass roofs and conservatories.
 – Allergen reduction; soft furnishings are the enemy of those with dust mite allergies or asthma sufferers, our shutters reduce allergens particularly when damp dusted
 – Light control; we can show you how to use shutters to their best advantage and with the optimum use of the louvers you can bounce beautiful ambient light in to your home or conversely keep spaces shady when required
Furthermore, we have an incredible 9.9/10 rating on Checkatrade
Contact your local shutter experts
We would be delighted to visit your home and conduct a no obligation design visit so that you can see the benefits for yourself.
New Malden Plantation Shutters: Call 01932 500 270 to arrange a design visit. Furthermore you can click on the buttons below to request a brochure.