Portchester – the new line of Security Shutters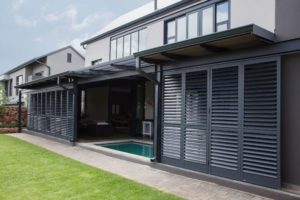 Our new range of interior security shutters, Portchester, is finally here! The highly anticipated range is truly unique. Boasting the highest security standards on the market, coupled with the stunning look one would expect of a Just Shutters product.
Therefore, the Portchester range is perfect for anyone seeking to protect their home whilst avoiding the associated industrial look.
Traditional Shutters vs Security Shutters
The Portchester range is one of our most unique products lines to date! This is as a result of the durable aluminium material they are made from. This ensures that the shutters are much stronger than our traditional products that are made from wood or high quality MDF.
Furthermore, the Portchester range is defined by one key feature – a lock and key! Therefore, you can rest assured that your home is safe with this high level of intruder resistance.
The benefits of Security Shutters
As with the rest of our product range, Portchester boasts many benefits! Aside from their uniquely stunning look, the shutters are incredibly practical due to several features. Practical features such as: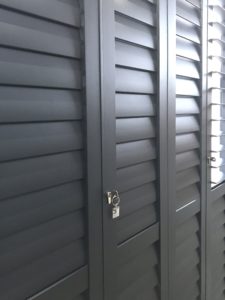 -Combining style and security: Portchester is truly unique in that it ensures your home is safe whilst retaining a stylish appearance.
-The ability to lock: A patented lock and key mechanism allows you to lock the louvres shut or keep them open.
-Ambience control: As with all shutters, the ambience of any occasion can be altered by differentiating the light levels coming into your home.
-Finishing options: The Portchester range is available in 3 standard finishes. Furthermore, there is scope for custom finishing options.
-Durable: Resistance to day to day wear and tear is an incredibly useful perk. Therefore, the Portchester range is perfect for a busy family home. Furthermore, the coat on the aluminium ensures there is no colour fading!
Contact Just Shutters
Contact Just Shutters today on 0845 894 0700. Our experts are on hand to answer any questions you may have about our new Portchester range. Alternatively, click here to find your local expert or use the buttons below.