DESIGNING AND INSTALLING THE FINEST PLANTATION SHUTTERS IN WILTSHIRE 
Just Shutters extends a warm welcome to Gareth Foulston, our specialist covering the Wiltshire region.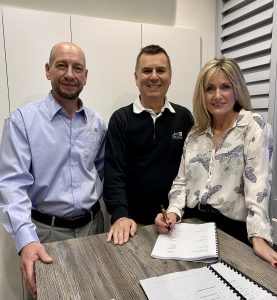 Pictured right, Gareth signs his contract with Chris Rocker, Founder, and Sarah Clifford, Sales Manager.
Gareth had a 20-year career working with furniture and also owned an installation service business before joining the Just Shutters family. With his hands-on practical ability and love of working with people, Gareth brings a wealth of skills and experience to his customers in Wiltshire.
Wiltshire is a place apart, ancient, mysterious, and beautiful. With this in mind, Gareth carries our mission with serious responsibility: to bring beautiful plantation shutters to Wiltshire that only enhance an area where architectural beauty is taken very seriously.
CONTACT GARETH
For the finest plantation shutters available in Wiltshire, contact our friendly team of experts today on 01722 440 714 or visit our contact page to arrange an appointment with us. Gareth looks forward to designing the shutters that work best for you and your home, and in due course expertly fitting our shutters so that you are more than delighted with the result.
If you would like to learn more about becoming a Just Shutters business owner, please click here.