North Wales Shutters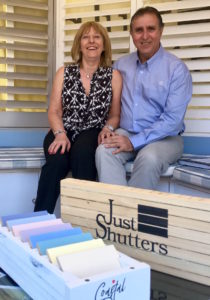 North Wales Shutters by Ken and Angela Eardley – the Co-Directors of Just Shutters North Wales. Contact them on 01352 872058 to begin a dialogue with Just Shutters!
Where do they operate?
This division operates across North Wales, Cheshire and The Wirral. See the list below for the areas they cover:
Meet the couple behind North Wales Shutters
Ken and Angela Eardley are a fantastic husband and wife team who are both local to the North Wales area. Furthermore, between them they have vast amounts of experience within customer services, retail and business. As a result of this, your experience will not only be friendly and personable but also seamless behind the scenes.
Customer service and reviews
As is the same across the Just Shutters national network, Ken and Angela are renowned for the dedication to customer satisfaction. Therefore, like the rest of Just Shutters, both Ken and Angela are thrilled with the positive feedback they receive! Such as Just shutters being awarded an exceptional rating through Checkatrade. This outstanding rating is the culmination of more than 1800 customer testimonials. We would love you to join them!
Contact Just Shutters
Contact Ken and Angela on 01352 872058. They are on hand to answer any questions you may have and start you on your Just Shutters journey! Alternatively, use the buttons below to download our brochure or book a home design visit.