Shutters are not just a stunning addition to your home, they are also a very practical one, which is why they have become such a popular window solution for homeowners and interior designers.
In the dark days of winter, they keep the heat in and screen out the cold and wet, making living spaces and bedrooms cosy and intimate. In the intensifying summer heat, they keep a home shaded and cool.
ENCHANCE YOUR HOME AS A REFUGE FROM CLIMATIC EXTEREMES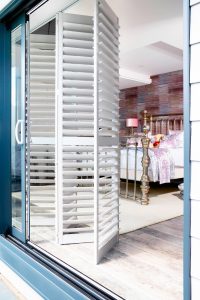 Plantation shutters enhance a house as a refuge from climatic extremes, they improve the thermal efficiency of windows by up to 40%, giving a huge saving in these times of rampant energy cost rises.
Our shutters are made-to -measure and expertly fitted, adding another layer of security to your windows. With adjustable louvres giving protection for the sun without compromising light, they offer privacy from passers- by, who will undoubtedly be looking at your windows!
Beautiful designs, colours and styles to fit any size of shape of window, its no wonder shutters are the first choice for windows.
Its curtains for curtains…
If someone buys shutters once, they will never buy curtains again!
CONTACT JUST SHUTTERS
Our friendly team of experts are on hand to answer any questions you may have! Call us on 0345 894 0700, or alternatively click here to book a home design visit.