Have you been searching for a reliable company that produces high-quality shutters? Then you need to get in touch with Just Shutters, providers of the best plantation shutters Ferndown has to offer. You can learn more about our excellent products today by giving our team a call on 01202 240 769. Alternatively, send your enquiry to information@79.170.40.239, and we'll get back to you with the required information as soon as possible.
High-Quality Plantation Shutters in Ferndown
Here at Just Shutters, we're delighted to offer clients exceptional plantation shutters. Ferndown customers will be blown away by the quality of our products and the skill of our team as they deliver a service that exceeds all your expectations. We're determined to leave you wholly satisfied by producing shutters that meet all your requirements. Continue reading to find out why our services are in such high demand.
For many years, we've been producing shutters for homes and businesses alike. Over time, we've built up an excellent reputation within the industry thanks to the continued efforts of our staff. We've gained a significant amount of experience from previous projects and are confident in our ability to produce excellent shutters every time. The skill of our team and our extensive trade knowledge are what set us apart as the go-to suppliers of Ferndown plantation shutters.
The Best Plantation Shutters Ferndown Has to Offer
When you work with us at Just Shutters, we'll provide a service that is entirely tailored to your needs. Our staff will work closely with you to design shutters that are suitable for your property. Our vast array customisation options allow you to decide on everything from the colour to the shape. This personalised service makes us many people's first choice company for Ferndown plantation shutters.
Once you have decided on your shutters, our team will set a convenient date to visit you for installation. We realise that fitting shutters can be disruptive, so we'll work quickly and efficiently to finish the job as soon as possible. Our staff will keep you updated throughout the process to ensure that you're satisfied with our progress. This straightforward installation process makes us the most appealing option for plantation shutters Ferndown clients have available.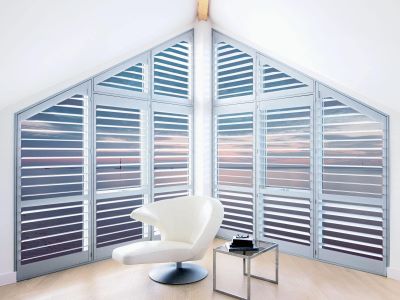 As well as manufacturing high-quality plantation shutters in Ferndown, clients can also enjoy the many other styles we offer, which include:
Café Style
Tier on Tier
Cupboards & Wardrobe Doors
Solid
Bay Windows
And More!
We realise that clients require shutters for many different reasons, which is why we've made sure to expand our catalogue. Thanks to our variety of products, we are the best company available for more than just plantation shutters. Ferndown clients who would like to know more about our various styles should get in touch with our team today.
Why Choose Us for Ferndown Plantation Shutters?
We understand that clients want to know that they're getting products and services from a proven company. As such, we at Just Shutters are proud to boast that Checkatrade accredit us and our profile with them has near-perfect ratings for all aspects of our work. An endorsement such as this, as well as our excellent reviews, proves that we're one of the most reliable companies for plantation shutters Ferndown has available.
Rather than just reading about our gorgeous shutters, why not take a look for yourself? Our online galleries show off the results of some of our most recent projects. Browsing through the pictures on these pages will give you a better idea of what to expect when you work with our team. These images are sure to convince you that we're an exceptional company for plantation shutters in Ferndown.
Contact Us
So, if you're interested in our outstanding plantation shutters, Ferndown clients should call our team at Just Shutters today. Our staff are always willing to discuss our products and services in more detail, so don't hesitate to get in touch if you have any questions. Give us a call now on 01202 240 769, or send an email to information@79.170.40.239, and we'll get back to you as soon as possible.