PLANTATION SHUTTERS Redland and Stoke Bishop
Plantation Shutters Redland and Stoke Bishop by Just Shutters, your local shutter experts. We offer the finest quality and widest choice of window shutters in Redland and Stoke Bishop; call us on 0117 370 1594.
Husband and wife team Rob and Linda Reeves are your local, passionate shutter specialists. We have an unrivalled reputation, a keen eye for design and a passion for great customer service.
We understand that for most, the primary reasons people long for shutters is their beautiful aesthetics and style. However, in addition to their great looks, clean lines and timeless elegance,  beautiful Plantation Shutters can do so much more for your home. You may like to know that shutters have substance as well as style!
For example, shutters: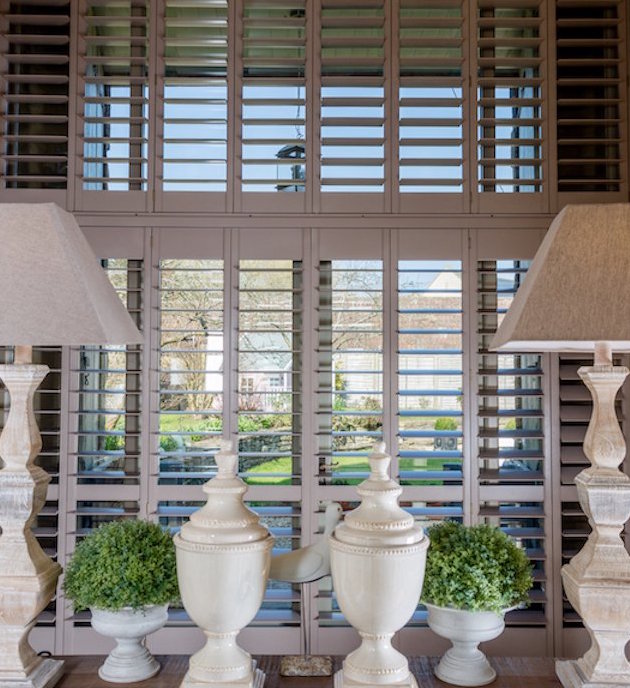 – Add privacy
– Enhance security
– Minimise heat loss
– Reduce noise
– Reduce drafts
– Need little to no maintenance
– Can help reduce allergies
– Come with our lifetime guarantee
Just Shutters Redland and Stoke Bishop
Just Shutters was born in 2006, after the founder, a craftsman himself, fell in love with his own shutters. Since then, we have earned an unrivalled reputation for offering a high-quality and exemplary service. You can be assured you will always get the very best of the local and personalised approach. Alongside this we offer our market leading products and lifetime guarantee.
WHAT NEXT?
For further information, please request a free inspirational brochure or book a home design visit below. Alternatively, please call Rob (pictured left) and Linda on 0117 370 1594 to see exactly what we can offer you.
CUSTOMER TESTIMONIALS
Our unrivalled reputation is a testament to our passion and hard work. No one can speak of this better than our customers. Please see Just Shutters on Checkatrade to see over 1800 published reviews. Here are just a taste of what they say:
Fitting shutters to the front of the house.
"Excellent job done by Just Shutters."
Fittings of plantation shutter blinds.
"Professional, polite and friendly service."
The fitting of wooden plantation blinds.
"Very professional standard of work. High-quality product. Courteous and neat installers. Definitely recommend."
8 shutters.
"This is the second house where we have used 'just shutter' – says it all. Excellent company to deal with."
You may also like to see: window shutters Bristol, and shutters Portishead.