Are you renovating your property and want to give your rooms a stylish feel? Well, why not consider purchasing some plantation shutters? Surrey-based customers should look no further than Just Shutters! We design, create and fit beautiful shutters for an array of clients. If you want to add yourself to that list, give us a call on 01932 500 270.
Surrey Plantation Shutters to Brighten Up Your Home
Having a home of your own allows you to let your imagination run wild when it comes to design. Every room can reflect your personal taste and style; from the colour of the walls to the furniture on the floor. It is exciting once you begin a renovation project, but it can be overwhelming thinking of every aspect. When it comes to Surrey plantation shutters, let us take the reins!
Here at Just Shutters, we have a range of products to suit every style of property. Perhaps you have been looking for plantation shutters in Surrey for a while, but other companies are not meeting your needs. With us, though, we have a vast selection for you to choose from, and we ensure that the shutters you choose will meet your specifications.
When looking for plantation shutters, Surrey customers, you need to make sure that they reflect the décor of your property. We can help with that by offering our expert advice on the following products that we provide:
Our team at Just Shutters offer a bespoke service, which means that your every need will be met. Windows come in varying shapes and sizes, but we have Surrey plantation shutters that will slot in perfectly. For example, perhaps a café style would suit your loft conversion, or solid shutters may be an ideal choice. We also provide full height, tracked, bay and tier on tier shutters.
Quality Hinges and Fixings
We specialise in plantation shutters in Surrey, and we also have a fantastic range of hinges and fixings to go along with them. We have every option to suit all shapes, colours and sizes! They may be a minimal addition, but hinges and fixings will complement your shutters, adding to their aesthetics.
If you are going for a sleek approach, then perhaps you should select hinges and fixings that are more discreet. Alternatively, we have more statement options if you are after a more bold and vibrant look. From brass to white on white, we will have the perfect accompaniment for your plantation shutters, Surrey clients.
Some of our customers already have an idea in mind when it comes to their Surrey plantation shutters. However, we have also worked with clients who need help in finding the right fit for their property. Rest assured that our experts are on hand to advise you and steer you in a direction that you will be delighted with.
Why Our Plantation Shutters, Surrey Clients, Are the Best Around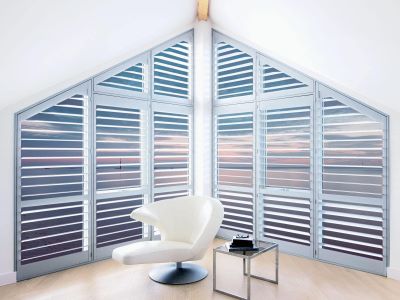 As you can see from the above, our experts at Just Shutters offer a comprehensive service, from design right through to fitting. You may have found other companies that stock plantation shutters in Surrey, but you will struggle to find a service that betters our bespoke treatment. We are the UK's largest independent shutter company for a reason!
Within our options, we have an exclusive range that you will only find at Just Shutters. We have a friendly and professional team who will visit your home to take relevant measurements and get a feel for the room's atmosphere and style. All of our plantation shutters, Surrey clients, are tailored to your needs and specifications.
Customer service is hugely important to us as we endeavour to not only meet expectations but exceed them. We know that you are expecting the best when you purchase our plantation shutters, Surrey clients. With that in mind, we give 110% during the entire process, and this is reflected in our Checkatrade scores.
Contact Us Today
To arrange for a home visit and quotation for plantation shutters, Surrey residents should get in touch with a member of our team. You can reach us by calling 01932 500 270. You can also contact us by filling in our online form.