Shaped Shutters – Plantation Shutters for Special Shaped Windows
Shutters are quite simply the perfect solution for the more special and uniquely shaped window.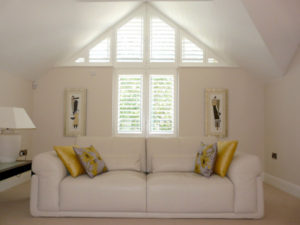 Plantation shutters are all individually designed and custom made perfectly to measure. Shutters make the very most of even the most unusual of window. Shaped shutters make a design impact and compliment statement windows more perfectly than any alternative window covering.
Triangles, arches, portholes; beautiful stylish feature windows can make stunning design statement! But with most window coverings, those windows can be very tricky to get right. Many end up lost behind ill-fitting curtains or blinds. Shutters however enhance these beautiful windows, and because all shutters are bespoke, they work with every shape, making each line or curve a design feature.
Just Shutters – designing the perfect shutters for shaped windows
We have designed and fitted many thousands of beautiful, unique shutters. Our installations include a 50-foot atrium, perfect portholes, and every shape in between. You can see just one of these on this page, for more of our shaped shutters please visit our image galleries.
Get in Touch
As with all our shutters, we have a range of colours and finishes. Our shutter expert will be able to advise you on at our initial home visit. Please call us on 0345 894 0700 to book your free design consultation, at which you will be able to discuss your own desires for your home and get a personal measure and price.