Shaftesbury Plantation Shutters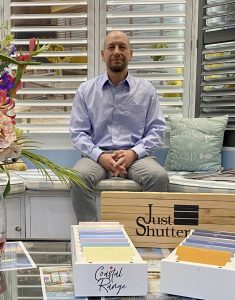 Custom-made plantation shutters from Just Shutters in Shaftesbury will transform your home. We offer the perfect package of design and installation in Shaftesbury, coupled with exceptional customer service and a lifetime guarantee. Gareth Foulston is your local expert, he has a thorough understanding of working sympathetically with all kinds of building, both historic and modern.
Our plantation shutters start with a well-resolved range of colours, options, and styles, and in the initial consultation we work closely with you to establish what will work best in the setting. When we move to the installation stage, we take particular care to make sure they fit and function superbly. They will be fully adjustable for both light and insulation, and so extremely versatile no matter what the weather, available light, or humidity.
We will be delighted to demonstrate what we can do for your home at any time that suits you, so please call us today on 01747 441 101 so we can have that initial discussion.
What are Plantation Shutters?
Plantation shutters, sometimes called shutter blinds, are made-to-measure internal shutters that fit any size or shape of window or door perfectly. Arched or round, bay window or picture window, French doors, or side doors, even wardrobe doors and room dividers: these shutters can achieve what other window coverings simply cannot – an absolutely perfect fit.
You can easily see their striking looks and practical benefits by spending time looking at our shutter galleries, for inspiration and guidance. These beautiful and practical shutters really do combine a fabulous 'designer touch' with all the functional efficiency to make them work all year round.
Who are Just Shutters?
Shaftesbury's most recommended shutter company, Just Shutters are your Wiltshire shutter specialists. We are part of the UK's leading independent retail plantation shutter company, where excellent value and customer satisfaction have helped us grow from a single, family-owned business in Dorset to a brand with nationwide recognition in many desirable locations.
We constantly endeavour to maintain and nourish this reputation, and so we invite everyone looking for shutters in Shaftesbury and the surrounding areas to contact us to discuss your new shutters – please do call us today on 01747 441 101 to get our relationship started, alternatively request a brochure or an appointment by clicking on the links below.
What our customers say about us
Shutters on two windows.
"Good service, also a very good price."
The Perfect Shutters
"Great service at a reasonable price and overall excellent product."
Installation of shutters to front bay window.
"Excellent overall work. So pleased with the end result."
Installation of shutters to front bay window.
"Excellent work, so pleased with the end result."
Perfect Shutters 10/10
"Would so recommend"
You may also like to visit our Just Shutters Wiltshire Page.