Shutters for hotels – they are not just for houses!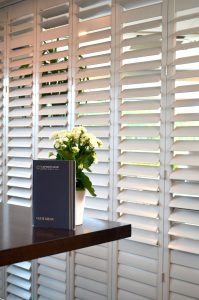 Shutters for hotels! They aren't just for the home!
Shutters make for a fantastic feature in hotels and other hospitality establishments! Not only are they stunning, providing a luxurious and contemporary feel to any room with their clean lines and elegant style, but they are also incredibly practical!
This practicality comes as a result of various unique features that are perfectly suited to the hospitality industry. Features such as:
-Ease of cleaning: shutters can be cleaned with a simple wipe of a feather duster! Therefore, not only is housekeeping's job made easier, but also quicker! As a result, your housekeeping team will be more efficient.
-Durability: shutters are a great investment. This is as a result of their impressive longevity.
-Child safety: shutters are intrinsically child safe, they are not operated by dangerous cords and are securely fitted, so there is no chance of them falling down or causing injury. Therefore, there is no risk to the safety of your young guests.
-Privacy: keeping prying eyes out of guests' rooms with the use of shutters! Your guests will feel a million miles away from the outside world – in the private sanctuary of your hotel room.
-Security: keep your furnishings and guests safe by securing windows. Hotels in high footfall areas may consider using our aluminium security shutter range.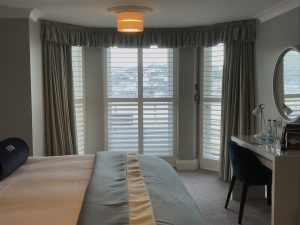 Just Shutters are experts in shutters for hotels. We have delighted many hotel owners with our shutters around the country.
Shutters in commercial property
The practicality of shutters comes in useful in many commercial premises. The durability of shutters lends itself perfectly to high footfall areas, such as receptions and busy offices! Give your commercial property a contemporary but homely feel with shutters!
Contact us
Are you a hotel owner? Maybe you have a commercial space that is proving challenging to decorate? Contact the dedicated team at Just Shutters to discuss installation of shutters in commercial and hospitality premises.
Call us on 0345 894 0700.