Plantation Shutters as wardrobe doors and room dividers
Plantation shutters as wardrobe doors? You may ask, but aren't shutters just for windows? No! Shutters are perfect for doors, wardrobe doors and even room dividers.
Plantation shutters are not just an elegant window covering, they are a stunning and highly practical solution which can be used to divide rooms, and they are also a superb-bespoke designer alternative to fitted wardrobe doors.
Why choose shutters?
Shutters are both stylish and incredibly hard wearing. They are most commonly known for making striking window coverings, but what makes them great for windows also makes them fantastic for other purposes.
Plantation shutters as wardrobe doors
As shutters are bespoke, designed and made-to-measure, they are perfect for awkward spaces. A great solution for places that off the shelf wardrobes simply would not fit! A practical, stylish and cost-effective option, shutters can often come in far cheaper than bespoke wardrobe doors. Not only this, but they provide value year-on-year with our lifetime guarantee!
Shutter louvres can be angled so that they shield your closet items from view while still allowing air to circulate. Our shutters help keep your clothes and other items fresh, and the air inside clean.
Shutters as room dividers for open-plan living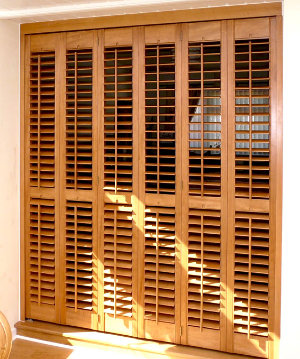 Open-plan living has become increasingly popular in recent years. It gives us a sense of space, provides flexible, adaptable living areas and improves our social interaction. With many homes now having different functional areas which are interconnected, the ability to control light, privacy, and temperature becomes crucial.  The use of shutters in open-plan spaces provides a stylish and practical solution which addresses these needs while adding a touch of sophistication to your home.
Open them fully to maximize the space in your open-plan room. When closed, they give privacy and perfectly divide an area.
Versatility
Shutters come in many colours and finishes and are individually designed to be the perfect-fit for your home. So whether it is a bold colourful design statement, a modern crisp white wardrobe front, or a traditional wooden look you are after, we have the ideal shutter solution for you.
Experience The Just Shutters difference
Our design style is specific, different, and carefully curated; this sets us apart from the rest. Our precise design guidelines ensure the perfect fit for windows, doors, and room dividers of any shape or size.
To experience the exceptional Just Shutters differences first-hand, please contact us on 0345 894 0700 or follow the buttons above to book a home design visit or request a brochure.